Kansas City, Mo. — Some people, when they set out to find themselves, seek out a mountaintop where they can contemplate the meaning of life.
Not Gunther Cunningham. He goes to Tennessee and coaches linebackers.
Now the former head coach of the Kansas City Chiefs is back as the team's defensive coordinator, working for the same people who fired him three years ago. He's insisting that finally he knows what he wants.
"I can't explain it to you," he said. "But (the Titans) ... gave me the opportunity to go find out what the heck I really do well. I found out the best thing I do as a coach is coach players."
Sitting next to him at a news conference Tuesday was Chiefs president Carl Peterson, who fired him following the 2000 season so he could hire Dick Vermeil. The pair are now Cunningham's bosses in a town where just three years ago his salty language and crusty manner became the butt of jokes.
"I can't begin to tell you how unusual this feels," said a grinning Cunningham, 57. "It is the most unusual turn of events that I've been part of in my professional career. And I'm very happy about it."
In his only stint as a head coach, Cunningham in 1999-2000 was 16-16 with the Chiefs. Many questioned his late-game strategy as well as his urge to micromanage and said he lost the respect of his players.
But there had never been any doubt about his ability as a defensive coordinator. With an aggressive, swaggering style -- and with Pro Bowlers such as Neil Smith and the late Derrick Thomas -- his Kansas City defenses from 1995-98 were among the league's best.
Twice they led the NFL in fewest points allowed. In 1997 they broke a 63-year-old NFL record by not permitting a second-half touchdown in 10 straight games.
After Peterson fired him, Cunningham spent three years as linebackers coach at Tennessee where, he said, he came to peace with himself as a position coach.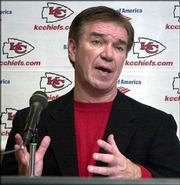 "I told coach Vermeil that. I said the head coach never has a chance to do what we have a chance to do. We're in amongst them," he said. "To me, that's what coaching's all about. Watching players have success and you being a part of it."
The Chiefs, for the past two seasons, have had one of the worst defenses in the NFL at the same time they've had one of the most explosive offenses. They finished 13-3 this year but lost to Indianapolis in their first playoff game when they failed to force the Colts to punt even once.
One day later, Greg Robinson resigned as defensive coordinator and Peterson suggested to Vermeil that Cunningham was someone they ought to consider. Last weekend, Vermeil flew to Nashville and spent the day with Cunningham, who was also talking with the New York Jets and Atlanta Falcons about being their defensive coordinator.
"There is absolutely no regret coming here today. Absolutely none," Cunningham said. "I couldn't care less about looking back."
Peterson said there was never any doubt about what Cunningham did best.
"Sometimes people forget this is a game of relationships," Peterson said. "There's a business part to it and we certainly experience that. But the relationships you never forget. I'm very, very pleased to have Gunther back with us. We think he's the right guy at the right time.
"You can come home. We're welcoming him back."
Vermeil said Cunningham would have complete charge of the defense.
"No. 1, (he was) the best football coach I thought I could hire that would fit in our situation and help us continue to grow and work with the coaches that I have on the defensive staff," Vermeil said.
"He's worked with three or four guys on the staff already. He knows what he's getting. He knows their strengths and weaknesses and they know his and they can work together more efficiently and I think a little quicker."
Cunningham was noncommittal when asked if he still harbors hopes of being a head coach.
"I can't answer that," he said. "But one thing I found out is who I am. I'm a defensive football coach. And I love it. I thrive on coaching defense. That's what I want to do. Whatever comes down the road, let it come. You always can say yes or no."
Copyright 2018 The Associated Press. All rights reserved. This material may not be published, broadcast, rewritten or redistributed. We strive to uphold our values for every story published.