Washington — President Bush's State of the Union address Tuesday night came in two distinct voices.
For much of the 54-minute speech, the nation heard Bush as a war leader and statesman, in the traditional high rhetoric of a president's annual report to Congress. But there also were flashes of Bush as a combative partisan, in the sharper tones of the election campaign already well under way.
In presidential mode, Bush described himself as he would like the voters to see him: resolute in the war on terrorism, devoted to traditional values and compassionate toward the unemployed and uninsured.
In candidate mode, Bush condemned "critics" who, in his telling, opposed the invasion of Iraq, still question the war on terrorism, now seek to undermine education reforms and hope to undo his tax cuts.
This was a distinctly election-year State of the Union speech, one relatively light on ambitious new policies or programs but rich in the broad themes the president is expected to use in his re-election bid.
Ready to campaign
For months, Bush and his aides have professed a desire to postpone the political debate. But Tuesday, Bush spoke in barely concealed response to the Democratic candidates on the campaign trail -- and sounded eager to join the fray.
"We have faced serious challenges together, and now we face a choice," the president said. "We can go forward with confidence and resolve, or we can turn back to the dangerous illusion that terrorists are not plotting. ... We can press on with economic growth and reforms in education and Medicare, or we can turn back to the old policies and old divisions."
Three goals
The president's message had three parts: He sought to build on his greatest political strength, his image as a leader in the war on terrorism. He reaffirmed his commitment to promote traditional social values, including opposition to gay marriage. And he sought to neutralize the Democrats' advantage on issues like unemployment and health care, proposing programs to improve job training for high school students and unemployed workers, and a new tax credit to help low-income families buy health insurance.
"These are relatively small programs, but it's an effective use of symbols to neutralize his weak spots," said Norman Ornstein, a political scientist at the American Enterprise Institute. "Bill Clinton used to do that, and it drove Republicans crazy -- because it works. ... And it will probably work for Bush." Republican strategists acknowledge that their party's greatest vulnerability this year is the perception of many voters that Democrats are more devoted to solving the problems of unemployed workers and families without health insurance.
Stealing Democratic thunder
An adviser to Bush's re-election campaign said the president's proposals on job training and health care followed a pattern charted with the education reform bill and his program to add prescription drug benefits to Medicare -- stealing the Democrats' thunder on an issue they thought they owned.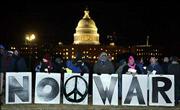 A Washington Post-ABC News poll released earlier Tuesday found that, by 55 percent to 37 percent, most Americans disapprove of the job Bush has done on providing affordable health insurance. But on both education and the economy, most voters questioned by the poll said they approved of Bush's performance as president, and 66 percent supported his fight against terrorism.
-- Times staff writer Janet Hook contributed to this report.
Copyright 2018 The Lawrence Journal-World. All rights reserved. This material may not be published, broadcast, rewritten or redistributed. We strive to uphold our values for every story published.