Salina — Wes Jackson gets a little impatient when asked how long it will take to achieve his dream of turning modern agriculture on its head.
"All these people want Wal-Mart science, instant gratification, fast and cheap," says Jackson, founder of the 580-acre Land Institute, where scientists are trying to develop perennial strains of wheat and other grain crops.
"But, you know, if you're working on something you can finish in your lifetime, you're not thinking big enough."
Jackson thinks big. He left a tenured position at California State University-Sacramento to open the Land Institute in 1976. After a year back in Kansas, Jackson began to focus on the ills of modern agriculture, which he said encouraged soil erosion and pollution.
"I envisioned something where agriculture worked like the prairie, with a lot less input," Jackson said.
He came up with Natural Systems Agriculture, a model that includes developing strains of perennial wheat, sorghum, sunflowers and corn, which, like prairie grasses, would come back every year on their own and produce enough grain to be marketable. The goal is to save soil and cut down on -- or eliminate -- the use of chemicals and irrigation.
The grains would not be planted in orderly, segregated rows as they are now farmed. But, mimicking the prairie in its natural state, they would be interspersed throughout a field.
As perennials, Jackson says, the crops would need fewer chemicals to fend off weeds and insects, and would get their moisture not from irrigation but from their vast root systems that soak up snow and rain.
'Here and now'
The Land Institute, which is funded through grants and membership fees, now has a 25-year plan for its goals and employs six scientists who work at developing the perennial crops. The institute also funds 19 graduate fellows at universities across the nation.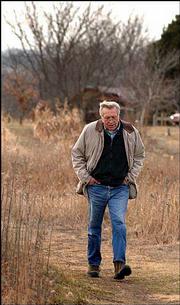 Jackson, 67, doesn't put a lot of store in schedules and in whether he will live to see farmers in Kansas or anywhere else harvesting perennial crops.
"Those who say that we have to take care of people in the here and now, that's the Mother Teresa syndrome," Jackson says. "If we're saying we have to focus on the here and right now, then we're going to have Mother Teresas forever, and we won't be dealing with the bigger problem."
Jackson's decision to locate the institute on Salina's eastern edge is a testament to his heritage -- and his nerve. The institute is smack in the middle of the nation's wheat belt, where acres upon acres of wheat are tilled over and over again and open up to miles of orderly sorghum rows.
But it's also Jackson's home. He grew up on a farm outside Topeka and was a guard on the Kansas Wesleyan football team. He earned a master's in botany at Kansas University and got his doctoral degree in genetics at North Carolina State.
Jackson won a MacArthur fellowship in 1992 for his work at the Land Institute. He's now planning a winter nursery in Argentina with the help of institute benefactor Doug Tompkins, founder of the Esprit clothing line.
'A bit of quackery'
Stephen Jones, an associate professor at Washington State University in Pullman, is one of the only other scientists outside the Land Institute who has been working on perennial wheat in the United States. He says crossing wheat with its wild cousins to make it a perennial is not a popular academic research choice.
"It's looked on as a bit of quackery," Jones said. "And I don't know how that started. It's not like we're asking the plants to make their own bagels.
"It's not that big of a leap biologically."
Jones' research is slightly ahead of the Land Institute's. He has wheat plants in the field that have come back for four years. Their yields are low, but Jones said that didn't concern him, and it shouldn't concern the Land Institute.
"Wes' idea of the prairie system ... is way out there in the future," said Jones, who sits on a Land Institute advisory board. "We need that. The land grant (universities) right now are pretty conservative places."
But Allan Fritz, an associate professor at Kansas State University in Manhattan, says potential low yields from perennial wheat were a concern.
"I really respect the people (at the Land Institute) a great deal," Fritz said. "I can see their point from an erosion standpoint. But I don't know that it's the best solution and that it's going to be viable in terms of productivity."
Gary Melander farms about 2,500 acres south of Salina. He doesn't care if the institute's perennial wheat has good yields because he gets something more from Jackson's efforts.
"The people at the Land Institute give me inspiration," Melander said. "The standard farm line is that we're doing the best job of growing food in the world and that our farm products are safe. ... But you have to read the fine print.
"That's where the Land Institute comes in. Their research isn't anything the average guy can use right now. Their goals are far down the road. But damn it, we have to start somewhere."
Copyright 2018 The Associated Press. All rights reserved. This material may not be published, broadcast, rewritten or redistributed. We strive to uphold our values for every story published.