Like many of his freshman classmates, Chase Edgerton began studying Arabic for little other reason than fulfilling a graduation requirement.
But as the study became harder and class enrollment shrank, the Kansas University sophomore found himself interested enough in the language to stick with it. He now hopes to one day find a job in the Arab world.
Since the terrorist attacks on America in September 2001, the interest in Arabic culture and religion has flourished here and elsewhere across the nation.
At Kansas University, there has been a dramatic jump in the number of students interested in learning Arabic, said Naima Omar, assistant professor of Arabic Studies. Omar said the number of students had tripled since she started teaching at KU four years ago.
Various factors can account for the increasing interest, Omar said: Current affairs in Muslim and Arab countries, new job opportunities and increased awareness and curiosity about the Arab world.
"American students have hardly had a chance to explore beyond their borders," Omar said.
Alpha Books, publisher of "The Complete Idiot's Guide to Understanding Islam," sped the release date of the book to early October 2001 after the attacks. According to its author, Yahiya John Emerick, Islam is the fastest growing religion in the world as well as in North America. Alpha Books followed the Islamic handbook with a similar guide to Iraq, which was published in August 2002.
'Worldly and sensitive'
Edgerton said that while 9-11 was not his primary reason for studying Arabic, many students in his classes had mentioned the attacks.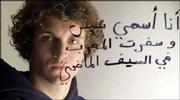 "Our teachers are worldly and sensitive to any questions that students may have," Edgerton said. "I think students have been more than satisfied with their answers."
The Arabic department offers two to three years of language classes as part of the African and African-American Studies department.
Last summer, Edgerton improved his Arabic conversation skills by studying abroad for eight weeks at the Al-Akhawayn Institute in Ifrane, Morocco. Studying at the university with students from the Middle East, Egypt and other Arab nations gave Edgerton the opportunity to correct some of his misconceptions of the culture.
"I try not to be one to stereotype, but my eyes were opened to a lot of things," he said.
Edgerton said he learned not to lump all Arabs into one group, but to recognize distinctions among different countries.
He said he tried to avoid awkward moments by not telling people he was from the United States unless he was asked.
"It's not that I'm embarrassed to be American," Edgerton said. "But if I was to say I was American it might be creating barriers."
Staying the course
Mohammad Al-Masri said he was used to curious students enrolling in Arabic to learn about the culture, but fewer come back as the courses progress.
Al-Masri, who teaches Arabic language at KU, said the average enrollment for first-year Arabic was 35 students. By the third year, classes were as small as three or four students, he said.
"The Arabic structure is totally different from English," Al-Masri said. "It takes a toll on students."
A native of Jordan, Al-Masri came to KU to do graduate work in linguistics. He said there were more reasons than ever for students to master the language.
"There are more motivations than before in the marketplace for students to become Arabic translators," Al-Masri said.
John Gassmann, a junior at Kansas University, also studied in Morocco last summer. He began learning Arabic to further his career options in the military. A member of the Army ROTC, Gassmann said he thought his ability to read and write Arabic would enable him to work in military intelligence.
"It's a culture that students in America don't really learn about and now there is a scramble to learn about it," he said.
Destroying stereotypes
In Morocco, Gassmann roomed with a Moroccan graduate student. The two discussed the religion, culture and politics of their countries.
"He had the conception that all Americans were Christian, kind of like the stereotype that all Arabs are Muslim," he said.
Gassmann entered into his studies of Arabic with only the goal of learning the language, but he said after being in Morocco, he had learned more about that country's history.
"It has sparked an interest in me and influenced me to learn more about the people and the culture," he said.
During the 2002-2003 academic year, 1,444 students studied abroad through Kansas University's programs. Thirty percent of students, the largest amount, studied in Italy. The summer program in Morocco and all the university's Middle Eastern programs fell into the "other" category at 12 percent.
"It takes awhile to build a program," said Susan Gronbeck-Tedesco, director of the Office of Study Abroad. "I think at least three years."
Changing consciousness
She said that the program in Morocco was still in its infancy at two years. The programs in Turkey, Israel and the Palestinian Administered Territories have been suspended because of travel warnings issued by the U.S. State Department. The warnings were not discouraging to students, said Gronbeck-Tedesco, and many are waiting eagerly for the warnings to clear.
"The world consciousness of the United States is changing," she said. "We are understanding the interdependence of the world economically and politically."
Margaret Rausch, associate professor of religious studies, has focused her research on Islamic studies. Rausch is in Morocco finishing a two-year research project on the Sufi rituals of Muslim women. She has been to the North African country 15 times since 1985.
The religious studies department offers several classes each semester that include discussion of Islamic traditions and culture. One course, The Development of Islamic Tradition, has had substantial enrollment every semester but Rausch said that she thought 9-11 had influenced everyone's interest in the Middle East.
"It ushered in a new phase, a change in the urgency, intensity and approach of the U.S. government's involvement in the Muslim world," Rausch said. "Students realize that there is a lot of controversy surrounding Islam and that it is an important issue. They want to learn more about it."
Copyright 2018 The Lawrence Journal-World. All rights reserved. This material may not be published, broadcast, rewritten or redistributed. We strive to uphold our values for every story published.