Chicago — As Bulls coach Scott Skiles walked over to reporters after a recent practice, he noticed Kirk Hinrich sitting nearby.
"Did you get my car washed?" Skiles asked.
"The keys are on your desk," Hinrich quipped back.
They were kidding -- probably.
But there's something about Hinrich that suggests bucket and sponge instead of drive-through car wash.
Maybe it's all the time he spends mopping the United Center court while diving after loose balls or taking charges. He leads the Bulls in both categories.
Maybe it's his small-town, cornfield image, cultivated by growing up in Sioux City, Iowa, and playing college ball at Kansas University.
Whatever the reason, Hinrich's personality has clicked with Bulls fans, who save their biggest pregame ovation for the 6-foot-3, 190-pound rookie point guard.
Hinrich, 23, seems embarrassed by the degree of attention. Asked how it feels to be the fan favorite, he puts his head down and shrugs his shoulders. It's the same reaction he had after Skiles declared him the Bulls' best player.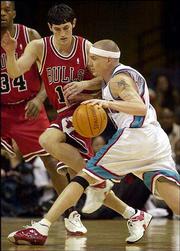 "I just want the team to play well together and have a good fit," Hinrich said.
It's a simple goal, but Hinrich isn't very complicated. To him, the simple life isn't a reality TV show.
And all the talk about how the naive country boy would fare in the bright lights of the big city rings hollow. Hinrich rents a townhome in Buffalo Grove, a suburb north of Chicago.
"Lawrence seemed like a big city compared to where I live now," Hinrich said. "Everybody was making a big deal out of it and joked about it, and that was fine, but living in a big city hasn't been a big adjustment at all."
Hinrich lives by himself, and he seems to have picked the neighborhood most closely resembling his personality.
"Sometimes I wonder if anybody's living over there," he said. "They're quiet, that's for sure."
Hinrich's neighbors, if he has any, probably don't realize they're living next to one of the top rookies in the NBA. It wouldn't be the first time he was mistaken for an average Joe.
Hinrich was pulled over for speeding after a game earlier this season, and when he was asked where he was coming from, he explained to the state trooper that he played for the Bulls and was coming home from work. The skeptical trooper showed Hinrich's driver's license to another officer, who had never heard of the No. 7 draft pick.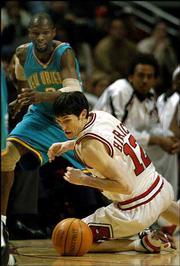 Finally, Hinrich's friend in the passenger seat grabbed a stat sheet and convinced the troopers the story was legit.
Off the court, Hinrich doesn't get out much. He estimated that he had been downtown about 10 times.
"Every once in a while after a game, I'll go eat downtown," he said. "But with the schedule and living so far out here, when I have a day off, I don't want to drive in the traffic and mess with it."
He'd rather stay at home and add to his DVD collection.
"I love to watch movies," he said. "I love comedies; 'Old School' is one of my favorites. And I like war movies and movies like 'Gladiator.'"
While Hinrich is popular with his teammates, the NBA is a very fragmented league, with players going their separate ways and rarely hanging out together.
"I'm good friends with a bunch of the guys, but everybody has their own thing," Hinrich said. "And I don't live that close, so it's a drive. And a lot of the guys have family and kids."
Hinrich still keeps in touch with his friends back home. A few of them came over Jan. 2 to celebrate his 23rd birthday, but there wasn't any time to celebrate. The Bulls played in New York that day, returned home at 1 a.m. the following morning and played host that night to Boston.
"I hardly see him when we're on the road," said Corie Blount, whom Hinrich counts as one of his closest teammates. "I ask him what he's doing after games sometimes, and he says he's going to get something to eat and call it a night. I leave it at that, and I respect that."
That might be one of the reasons Hinrich hasn't hit the mythical rookie wall. In fact, he seems to be getting stronger as the season progresses.
But it hasn't been easy. Hinrich battled a viral infection that forced him to start the season on the injured list. He lost 10 pounds while missing the first five games.
And then there's the losing. The Bulls are 12-26.
"It's been difficult," Hinrich admitted. "I realize now that I took winning for granted in college.
"I've never been part of a losing team, and it's something you don't get used to. It's definitely something that can take a toll on you. It's not only losing, but it's the whole transition to the NBA."
Hinrich has learned he can't take defeat as personally as he did before the NBA.
"In college and high school, it hurt me to a certain extent," he said. "I'm trying to get the understanding that even though this is my job and my life and is important, there are times when you need to put it in the back of your mind.
"Some nights, I lose sleep. Some nights, we play so awful, it's all I can think about. ... It's tougher when you're on your own, so I spend a lot of time on the phone with my parents and best friends. I try to deal with it the best I can."
Copyright 2017 The Lawrence Journal-World. All rights reserved. This material may not be published, broadcast, rewritten or redistributed. We strive to uphold our values for every story published.