DURHAM, N.C. — Second-ranked Duke matched its defensive intensity with steady shooting against North Carolina State Thursday night. The result was yet another win against its instate rival.
J.J. Redick scored 20 points and Daniel Ewing had 18 to lift the Blue Devils to a 76-57 victory over the Wolfpack.
Luol Deng added 11 points and nine rebounds for the Blue Devils (13-1, 3-0 Atlantic Coast Conference), who have won 10 straight games overall and 35 in a row at home.
With the victory, coach Mike Krzyzewski earned his 676th win to pass Louisville's Denny Crum for 17th place on the NCAA Division I list. Krzyzewski, in his 24th season at Duke, also earned his 300th win at Cameron Indoor Stadium.
Duke has won 29 of 33 meetings against the Wolfpack (9-3, 2-1), which fell behind early and never found the patient rhythm of its offense against Duke's pressure defense.
After winning their last nine games by an average of 27 points, the Blue Devils turned Thursday's game into yet another one-sided contest with the same defensive-minded formula. Duke held the Wolfpack scoreless for 6 1/2 minutes during an 11-0 first-half run that gave the Blue Devils a double-digit lead.
Duke continued to attack the Wolfpack defense with penetration and crisp passing the rest of the way. The Blue Devils never trailed and led by as many as 29 points in the second half.
"In our last game, we kind of slacked up on our defense up at Virginia, and that was an emphasis for us," Ewing said. "(N.C. State) kind of started strong, but we kind of quieted them down a little bit, and it carried over for the rest of the first half and into the second half."
Duke shot 51 percent, including 8-for-14 from three-point range.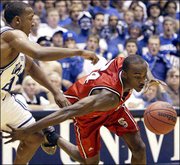 USC 99, No. 7 Arizona 90
Los Angeles -- Desmon Farmer scored a career-high 40 points and Southern California led nearly all the way in a victory over No. 7 Arizona. The loss was the second straight for the Wildcats (10-3, 2-2 Pac-10), who were beaten by No. 3 Stanford, 82-72, Saturday.
USC (8-6, 3-2) went ahead for good in the opening four minutes, but led by only five points before Farmer outscored the Wildcats 8-3 in a 59-second span for an 81-71 lead.
No. 8 Louisville 76, East Carolina 66
Greenville, N.C. -- Taquan Dean scored 16 points and No. 8 Louisville's swarming defense forced 16 turnovers in a victory over East Carolina. Larry O'Bannon also had 16 points for the Cardinals (12-1, 3-0 Conference USA), who won their 12th consecutive game and fifth straight by double digits. Louisville is second nationally in scoring margin at over 23 points per game.
Derrick Wiley scored 23 points for East Carolina (8-5, 0-3), which lost its ninth consecutive conference game dating to last season.
No. 12 Georgia Tech 75, Virginia 57
Atlanta -- Senior Marvin Lewis, coming off the bench for only the fifth time in his career, scored 17 points and No. 12 Georgia Tech snapped a two-game losing streak.
The Yellow Jackets (13-2, 1-1 Atlantic Coast Conference) bounced back from losses at Georgia and North Carolina, which put a damper on their school-record 12-0 start.
No. 16 Gonzaga 92, San Francisco 50
Spokane, Wash. -- Blake Stepp scored 23 points in the first half on 9-for-9 shooting and No. 16 Gonzaga crushed San Francisco. Stepp had five three-pointers as Gonzaga (13-2, 3-0 West Coast Conference) used a 33-2 run to build a 55-16 halftime lead.
Copyright 2018 The Associated Press. All rights reserved. This material may not be published, broadcast, rewritten or redistributed. We strive to uphold our values for every story published.