Atlanta — Looking for election-year support from black voters in the South, President Bush was greeted at Martin Luther King Jr.'s grave here Thursday by noisy demonstrators who chanted "Go home, Bush!" after he received a warmer reception at a rundown church in New Orleans.
As Bush placed a wreath on King's crypt, a low chorus of boos could be heard from across the street where an estimated 700 to 800 protesters beat drums and waved signs bearing slogans such as "War is not the answer" and "It's not a photo-op, George."
Bush's four-stop swing through Georgia and Louisiana allowed him to court two important constituencies -- religious conservatives, who make up his base of support, and black voters, only 9 percent of whom supported him in 2000. Events in both states were paired with fund-raisers, which raised $2.3 million for his campaign account, already at more than $130 million.
In this year's presidential race, Bush probably will garner only slightly more of the black vote, predicts David Bositis, a political analyst in Washington who focuses on black issues.
"Nine percent is the lowest for a Republican candidate since Barry Goldwater," he said. "When you get a zero on a test and you take it a second time, the odds are that you're going to do a little better."
The president, standing silently, his head slightly bowed, appeared unfazed by the protesters at King's tomb, where he laid a wreath of red, white and blue flowers to mark what would have been the civil rights leader's 75th birthday.
King Center officials said they extended no formal invitation to Bush but accepted his offer to come.
The president's critics dismissed his visit to the grave as a symbolic gesture that only underscored shortcomings in the administration's relationship with blacks.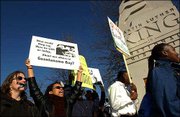 Back in Washington, Rep. Elijah E. Cummings, chairman of the Congressional Black Caucus, said not one policy decision made by the Bush administration -- from the war in Iraq to the economy, from education to the environment -- had mirrored King's dream.
"The president needs to be more embracing of elected African-American officials and the entire African-American community every day of the year, not just on January 15th," he said.
Bush didn't speak publicly at the grave, but earlier at the black church in Louisiana, Bush said King understood that "faith is power greater than all others," and that it was important for America to "honor his life and what he stood for."
Bush was at Union Bethel A.M.E. Church, in a high-crime area of downtown New Orleans, to push his faith-based initiative. He typically uses black churches for faith-based events, but Bositis said Thursday's events were tailored to winning white voters, too.
"They're aimed at white Christian conservative supporters," he said. "Appearing in black churches makes him look like he's doing all these things for black people. It makes him look less conservative, and that's a potential plus for white, suburban swing voters."
Copyright 2018 The Associated Press. All rights reserved. This material may not be published, broadcast, rewritten or redistributed. We strive to uphold our values for every story published.