BEND, ORE. — The pending merger of J.P. Morgan Chase and Bank One is a big deal on Wall Street. But, the merger's effects on Main Street probably won't become apparent for at least a year, experts say.
When they do, the banks' customers may benefit from a larger network of branches and ATMs and more product offerings.
"Now you have access to a distribution network and ATMs that is almost national," said George Albright, chairman of Speer & Associates, a financial consulting company that has worked with both institutions. "From my point of view there is a benefit of being able to bank with my bank anywhere."
Assuming the Federal Reserve and shareholders approve the deal, the combined entity, which will retain the J.P. Morgan Chase name, will be the nation's second largest bank, a $1.1 trillion behemoth with 2,300 branches in 17 states.
While a larger bank may mean more in the way of convenience, one concern whenever two giants merge is that there will be less incentive to compete on price and customer service.
Consumer banking experts don't expect that to be a concern with the marriage of J.P. Morgan Chase and Bank One.
"There's very little geographic overlap in these two institutions," said Greg McBride, a senior financial analyst for Bankrate.com, speaking of J.P. Morgan Chase and Bank One. "The only area where they both have significant market share is in Texas."
Similarly, the companies have traditionally targeted different types of customers, Albright said.
"J.P. Morgan and Chase have focused on 'blue blood' banking customers, he said. "Bank One is much more diverse in its customer base."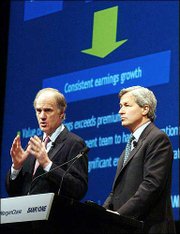 Although experts agree that this merger won't radically affect the terms of customers' checking and savings accounts, they do expect the banks to make some changes for the sake of being consistent.
"They may migrate in a direction, either up or down, depending on which bank becomes the lead on the consumer side," Albright said. For example, Bank One's account minimums could go up or J.P. Morgan Chase's could come down.
Jean Ann Fox, director of consumer protection for the Consumer Federation of America recommends that customers carefully read their bank statements and other bank correspondence in the next year or so.
Whether customers initially run into technology glitches remains to be seen.
The glitches could, for example, make it difficult to use certain ATMs or complete transactions at certain branches.
"I don't think Chase and Bank One will let that happen," Albright said.
When Bank One, the second largest credit card issuer behind Citigroup, and J.P. Morgan Chase, now the fifth largest issuer, merge, the combined entity will be No. 1 in terms of outstanding balances and No. 2 in terms of cardholders, according to Robert McKinley, CEO of CardWeb.com.
"Fewer players do mean higher prices," he said, noting that even before this merger the top 10 issuers controlled three-quarters of the market. The price of plastic has been going up in recent years, thanks to higher fees, shorter grace periods and punitive interest rates.
With even less competition among credit card issuers, cardholders will need to be even more vigilant about the terms of their accounts.
Copyright 2018 The Lawrence Journal-World. All rights reserved. This material may not be published, broadcast, rewritten or redistributed. We strive to uphold our values for every story published.