Several Lawrence-area Democrats aren't waiting until the Kansas presidential caucuses in March to press the case for their favored candidates; they're heading to Iowa to try to rally remaining, undecided voters before that state's first-in-the-nation caucuses.
Lauren Sullivan, a Lawrence for Dean coordinator, said almost a dozen members, including herself, planned to make the four-hour trip to Iowa in the next few days to help push Howard Dean's name to the forefront among Iowa Democrats.
"Iowa is a really important operation for us to be involved in," said Sullivan, who has temporarily quit her job as administrator at Headquarters Counseling Center, Lawrence, to pursue her Dean campaign efforts on a full-time basis. "This is a really critical point for the campaign."
National political experts and pundits agree: The Iowa outcome can thrust a candidate into the limelight or banish a hopeful into oblivion.
And as the caucuses approach, the race continues to tighten.
A Research 2000 poll released Thursday showed a close race in Iowa, with Dean at 22 percent, Massachusetts Sen. John Kerry at 21 percent, Missouri Rep. Richard Gephardt at 18 percent and North Carolina Sen. John Edwards at 18 percent, within the margin of error of plus or minus 4 percentage points. The undecided vote was at 13 percent, with other candidates in single digits.
The same poll a week ago found Dean (29 percent) and Gephardt (25 percent) battling for the lead with Kerry in third place at 18 percent and Edwards at 8 percent.
Mark Logan, volunteer coordinator for Kansans for Dean, said it was crucial that people take time out of their daily lives and help take action in the political process, regardless of the candidate.
"There's an instant kinship you feel with these people," Logan said from a Dean rally Wednesday evening at the Iowa State Fairgrounds in Des Moines. "I'm looking forward to the opportunity to observe the caucus."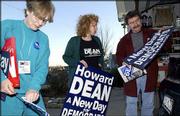 Scores of Dean followers have trekked across Iowa knocking on doors and passing out literature to potential voters.
Lawrence for Dean volunteers already have sent more than 300 handwritten letters to registered Iowa Democrats hoping to raise awareness for the former Vermont governor.
Dean supporters aren't the only Lawrence residents involving themselves in the Iowa race.
Area supporters of Ohio Rep. Dennis Kucinich said they'd written nearly 200 letters to Iowa voters in hopes of securing a stake in the tight race.
Kucinich is seen in most polls as a long shot in Iowa, as was Carol Moseley Braun, the former Illinois senator who dropped out of the race and endorsed Dean on Thursday.
"Governor Dean has the energy to inspire the American people, to break the cocoon of fear that envelops us and empowers President Bush and his entourage from the extreme right wing," she said. "And he has a program to put our country back on track to tax fairness, job creation, balanced budgets and an economy that works for everyone regardless of race or sex."
Although Braun's endorsement isn't expected to pay huge dividends in Iowa, it could help Dean later down the road with women and minorities.
Braun's endorsement comes just four days after the debate in which Dean was forced to acknowledge he never had a black or Hispanic in his Cabinet during nearly 12 years as governor. It was the latest example of Dean's ability to line up support at a crucial point in his campaign.
Another well-known Democratic politician, former Texas Gov. Ann Richards, endorsed Dean Thursday night during an appearance on CNN's "Larry King Live." "I think he's the guy that can beat Bush," she said.
After the Iowa caucuses, the political limelight will shift to New Hampshire for the first-in-the-nation presidential primary. Dean is expected to battle Kerry and former general Wesley Clark and Connecticut Sen. Joe Lieberman in the Granite State. Clark and Lieberman have chosen not to actively participate in the Iowa caucuses.
Earlier this week, Clark added his name to the list of Democrats participating in the Kansas caucuses, set for March 13. Lieberman and Kerry have already joined.
Jill Docking, the Kansas spokeswoman for the Kerry campaign, said the outcome of the Iowa caucuses would help determine the fate and direction for many of the candidates.
She said there hadn't been an overwhelming amount of support for Kerry in the Sunflower State, but she hopes for a change after the Iowa caucuses.
"It's so tight and hectic, a lot of us are just waiting to see what happens in Iowa," Docking said. "If Kerry makes it out of Iowa in first or second place, there will be some pretty quick movement in Kansas."
Pat Murray, executive director for the Kansas Democratic Party, said because Kansas' caucuses are not until mid-March, the state wouldn't be a hot spot for candidates campaigns unless the presidential nomination race still lacked a definite front-runner.
"But if we still have a multicandidate race, Kansas has got potential to be a very interesting state in the spring," Murray said.
Copyright 2018 The Lawrence Journal-World. All rights reserved. This material may not be published, broadcast, rewritten or redistributed. We strive to uphold our values for every story published.