Jeff Graves says he's on cloud nine because of his recent play during Kansas University men's basketball practices and games.
So are his teammates, giddy over the prospects of a productive second half of the season from the 6-foot-9, 255-pound big man, who can truly be a force.
"Jeff has had a great couple weeks of practice and he's carried it over into the games," junior forward Wayne Simien said after watching Graves score 11 points and grab nine rebounds while playing 33 minutes in Wednesday's 73-67 home win over Kansas State.
"Hopefully he can keep it up. We'll need him night in and night out. That's the Jeff Graves we need every night," Simien said.
Graves had arguably his best game of the season, mentally adjusting quickly to the fact coach Bill Self started Bryant Nash over Graves as a replacement for the injured David Padgett.
"Jeff was tremendous, especially coming off the bench. (I) wanted to see how he'd react with Bryant Nash starting. He was great," Simien said. "He came off the bench and did great things. He was everywhere, defensively, offensively, rebounding. He had a great game."
Self went with the 6-7 Nash to prevent Graves and Simien from getting into foul trouble. Simien, who had 19 points in 31 minutes, picked up four fouls; Graves just had three.
"We wanted Jeff and Wayne to be able to be in the game the last five to seven minutes, that's all that was," Self said of his decision to sit Graves early.
The strategy worked, as each played during crunch time.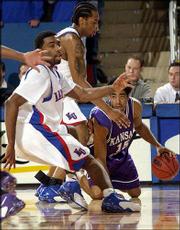 "I was like, 'Whatever it takes to help the team,'" Graves said of his immediate reaction to not starting. "Coach said he wanted me to stay out of foul trouble. I think the key was me sitting and watching from the side, the coaches telling me which ways they (Wildcats) played and stuff like that.
"I'm really happy with what I'm doing now, more happy with what the team is doing. We can go back to the championship (game) this year and possibly win it and me going on further in my career."
Graves, one Jayhawk who says he has "fresh legs" as a result of KU's nine-day break in the schedule, said he was energized.
"It doesn't matter if I start or come off the bench. I will try to put the fire to everybody," said Graves, who takes a 4.7 scoring, 5.1 rebounding average into Saturday's game at Texas A&M; (3 p.m., Reed Arena).
Self likes the fire in Graves' eyes.
"He's been great since Christmas. He feels great about himself and that is important," Self said. "When you are taking care of business off the court you feel better about yourself. He is playing at a high level right now. He has to strive for that consistency you need."

Gurley still in one piece: Former KU basketball player Greg Gurley received an ovation from the fans Wednesday at Allen Fieldhouse after he indicated he was OK after getting run over by Jeff Hawkins in the second half.
Hawkins charged into press row while chasing a loose ball, knocking Sunflower Broadband Channel 6 color man Gurley out of his chair.
"I took a pretty good hit," said Gurley, who Thursday told announcer Kevin Romary he was feeling fine.
"He said he got in the car last night and thought he felt something in his back. He woke up today and said he felt fine," Romary said.
Gurley had back problems during his KU career from 1991-95.

Practices rugged, too: KU may have had nine days between the Colorado and K-State games, but the Jayhawks didn't exactly sit on lounge chairs or recline in tanning beds during that span.
The Jayhawks had two practices on some days, where the intensity was as high or higher than in games.
"Getting back on Dec. 26 (from break) and not having much to do except basketball is a positive," Self said. "It can get old as well. We're into three weeks now, I guess.
"Any truthful young person would say they are not exactly excited for school to start (next Friday). These guys may be relatively excited for school to start. They need to see some other faces other than coaches."
Self -- he gave the team a day off physical activity Thursday -- said he was hopeful the team's health would improve as the season progressed. Simien is about 80 percent healthy because of a groin strain; Aaron Miles and Bryant are hobbled by ankle injuries; and Padgett is nursing a stress fracture. Also, Keith Langford has been run down because of a virus the past couple weeks.
Michael Lee just returned from a six-week layoff caused by a broken collarbone.
"The rest really didn't help us," Self said, "but if we'd been playing games we could have been worse off than we are. Just when you are supposed to get rested up we've had a couple things we've had to deal with. I didn't think we were rusty not playing for nine days because offensively we got good looks."
Of the break, Langford said: "You'd think after that many days off we'd be really sharp. We'll get better."
Langford said he would continue to take medication and drink fluids to shake his flu-like illness.
"Maybe I can breathe in some Texas air and have a miraculous recovery," the Fort Worth native said of this weekend's return home. "I will be all right."
Of his ankle injury, Miles said: "There was never any question I'd play. It felt fine."

Robinson back to normal: KU signee Russell Robinson, who received oxygen in the hospital Saturday night after being weakened by a gas leak in his New York apartment, is 100 percent now that the leak has been fixed and his lungs have been cleared of fumes.
The 6-foot-2 Robinson erupted for 32 points and grabbed 10 rebounds in New York Rice High's 78-70 win Monday over Holy Cross. Robinson had visited the doctor four times since December because of dizziness.
Copyright 2018 The Lawrence Journal-World. All rights reserved. This material may not be published, broadcast, rewritten or redistributed. We strive to uphold our values for every story published.