GAZA CITY, Gaza Strip — The first female Hamas suicide bomber was given a hero's funeral Thursday, a day after killing four Israeli border guards, and Israel sealed the Gaza Strip to review security at border crossings.
The closure prevented thousands of Palestinian workers from getting to their jobs in Israel and a nearby industrial zone. The workers, among the few with jobs in the impoverished region, worried life would only become more difficult -- but few were willing to openly blame militants for their new hardship.
Top Israel army commanders met Thursday at the Defense Ministry to consider a response to the latest attack, a security official said.
Targeted killings of senior Hamas militants were expected to resume, said the official, who spoke on condition of anonymity.
Wednesday's attack at the Erez border crossing between Israel and Gaza was the first time the Islamic militant group Hamas dispatched a female suicide bomber, and the group threatened more violence.
"She is not going to be the last (attacker) because the march of resistance will continue until the Islamic flag is raised, not only over the minarets of Jerusalem, but over the whole universe," Hamas leader Mahmoud Zahar said.
State Department spokesman Richard Boucher said in Washington the United States had condemned the bombing and had "called once again on the Palestinians to take steps to end the violence."
The Israeli security official said Hamas spiritual leader Sheik Ahmed Yassin issued a religious edict permitting women to carry out bombings. He said Yassin personally approved Wednesday's attack.
The bombing was carried out by Reem Raiyshi, 22, a mother with two young children. She had been escorted into a room for a security search when she blew herself up. The attack was jointly claimed by Hamas and the Al Aqsa Martyrs' Brigades.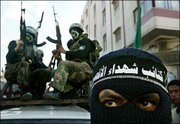 Copyright 2018 The Associated Press. All rights reserved. This material may not be published, broadcast, rewritten or redistributed. We strive to uphold our values for every story published.