Houston — Roger Clemens throws quite a curveball, too.
Clemens changed course Monday, ending his much-balleyhooed retirement after only 78 days and agreeing to pitch with close friend Andy Pettitte for their hometown Houston Astros.
At 41, the six-time Cy Young winner signed a one-year deal for $5 million. Instead of finishing in Yankee pinstripes, the Rocket splashed down in Spacetown.
"I took to heart what Wayne Gretzky told me and Michael (Jordan) and Emmitt Smith and even Johnny Bench," Clemens said. "It's great to come home."
For more than a year, Clemens insisted 2003 would be his final season. But that changed after the Yankees lost the World Series and Pettitte left New York.
"It's a great thing for Houston and, frankly, Roger has earned the right to do whatever he wants to," baseball commissioner Bud Selig said.
Clemens is coming off a season in which he went 17-9 with a 3.91 ERA. He reached career milestones of 300 wins and 4,000 strikeouts in the same game in June.
In what appeared to be his final outing, even the Florida Marlins applauded his last pitch in Game 4 of the World Series.
After the season, Clemens filed for free agency as a formality. A month later, the United States was eliminated from Olympics qualifying -- he had shown interest in pitching at Athens -- and it seemed he was ready to settle down and spend time with his family.
"Roger Clemens was a great warrior for the Yankees -- a teacher and a leader," Yankees owner George Steinbrenner said in a statement. "He told the world he was retiring, and we had no choice but to believe him."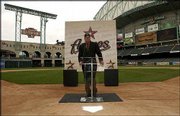 Now, Clemens faces another stiff challenge, the kind that always has motivated him. He hopes to help a talented Houston team reach the World Series for the first time in its history -- the Astros began playing in 1962, about four months before Clemens was born.
Clemens will play in the ballpark he helped open. He pitched in the first game at then-Enron Field, an exhibition between the Yankees and Houston March 30, 2000.
"I wouldn't be here if I didn't think this team had a great chance of winning. That obviously figures into it," Clemens said.
Said Astros general manager Gerry Hunsicker: "His charisma, character, credibility is all going to take this franchise to a new level."
The Astros finished second in the NL Central last season, one game behind the Chicago Cubs.
Clemens will pitch for much less than last year's $10.1 million salary. The Astros will defer $3.5 million of Clemens' pay until 2006.
Clemens can earn an additional $1.4 million based on the Astros' home attendance: $200,000 for each 100,000 fans starting at 2.8 million and running through 3.4 million. The Astros drew about 2.45 million fans last year.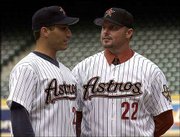 In addition, Clemens has a 10-year personal services contract with the Astros, beginning when he finishes playing.
Clemens also has an informal understanding that permits him to attend his sons' games during the season when he's not scheduled to pitch.
Clemens was with the Yankees for five years. He spent his first 13 seasons in Boston, then went to Toronto for two years before moving on to New York, where he won World Series titles in 1999 and 2000.
His 310-160 record over 20 seasons puts him 17th on the career wins list, and his 4,099 strikeouts place him third behind Nolan Ryan (5,714) and Steve Carlton (4,136).
Clemens often has said he wanted a Yankee emblem on his Hall of Fame cap. By joining the Astros, he pushes back his election another year to at least 2010.
Clemens' last appearance for the Yankees was a moving one as flashbulbs lit up the ballpark at Florida. He didn't get a decision as the Yankees lost to the Marlins, 4-3 in 12 innings.
His outlook on retirement started to change Dec. 11, when Pettitte -- who also lives in the Houston area -- agreed to a $31.5 million, three-year contract with the Astros.
"We wouldn't even be talking here now if Andy wasn't here," Clemens said. "Andy signing down here just changed everything. I was surprised. I already had my schedule laid out to get twice a month to New York and watch Andy."
Houston heads to spring training with a starting rotation that includes Clemens, Pettitte, Roy Oswalt and Wade Miller.
Copyright 2018 The Associated Press. All rights reserved. This material may not be published, broadcast, rewritten or redistributed. We strive to uphold our values for every story published.