Every three months, Craig Sweets gives Lawrence's homeless a chance to be heard.
"I want them to have a voice. I want to let all of Lawrence know what it's like to be living on the street," said Sweets, volunteer publisher of Change of Heart, a quarterly newsletter written by and for the city's homeless.
The latest issue went into circulation Monday. It'll soon be available at programs for people who are homeless, Lawrence Public Library and most downtown churches and coffee shops.
Some copies might be sold on the street.
"That's the way it works in Boston, which is where I got the idea," said Sweets, a former student at Boston University. "I'd like to let (people who are homeless) sell them, so they would have a way to make some money. We'll see."
Sweets said he hoped copies of Change of Heart would sell for $1 apiece.
The latest issue, an eight-pager, includes poetry, drawings, a short essay on "Economic Dislocation," an update on the new Lawrence Open Shelter, 944 Ky., and an annual report on comings and goings at the Community Drop-In Center, 214 W. 10th St.
"It's not hard-hitting, but it's worth reading," said Tami Clark, director of the drop-in center. "It gives people who are homeless a way to express their own opinions on their own experiences."
Sweets, 31, said he started Change of Heart seven years ago, after meeting homeless advocate Michael Stoops during a Kansas University conference on homelessness. Stoops is an official with the National Coalition for the Homeless.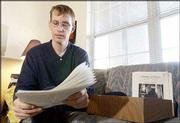 Sweets' duties include writing, gathering and laying out copy, and finding an organization willing to print the newspaper for free or at a reduced rate. The latest issue -- 300 copies -- was printed by the city of Lawrence's Neighborhood Resources Department.
In the past, several churches have helped with the printing.
A 1991 graduate of Lawrence High School, Sweets is not homeless. His mother is Judy Sweets, former archivist at the Watkins Community Museum of History.
Copyright 2018 The Lawrence Journal-World. All rights reserved. This material may not be published, broadcast, rewritten or redistributed. We strive to uphold our values for every story published.