Charlotte, N.C. — John Fox took over a team in trouble.
The Carolina Panthers were coming off a 1-15 season and ranked at the bottom of the NFL in almost every statistic. Fox arrived talking tough, vowing to implement a physical defense and a run-first offense that would turn the team around.
The plan worked much faster than anyone anticipated.
In two seasons, Fox's demand for excellence jolted the floundering franchise, lifting the Panthers into Sunday's NFC championship game at Philadelphia -- one victory from their first Super Bowl.
"The game gets bigger on the outside, but we just try to stay the same on the inside," Fox said. "Our preparation, our focus -- not be distracted. I think all those are the important factors."
And it's not as though the hard-nosed Fox is working with a fresh batch of players: About half his roster was part of the group that lost its last 15 games in 2001.
While the Panthers might have known little about Fox before hiring him, plenty around the league figured he would be a natural success as a head coach after five seasons as the New York Giants' defensive coordinator.
"I didn't know when he would get it turned around, but I did know that he would do it," said Giants quarterback Kerry Collins, who led Carolina to its only other NFC title-game appearance.
"I knew it would just be a matter of time once Foxy got the job."
At his very first Panthers minicamp, Fox stood up and challenged his team's toughness.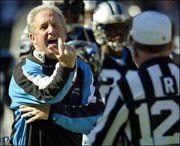 "He basically came in and said, 'I don't know how tough you guys are,"' safety Mike Minter said. "He didn't pull any punches on that, and it's hard when a man has his toughness questioned. But he laid it all out there and told us whoever survived training camp would be around to turn this team into a winner."
It was quite a change. Fox's predecessor, George Seifert, was laid-back and had few close relationships with players. Fox is a screamer and a sideline pacer who wants to get to know each and every member of the team.
Under Seifert, the Panthers rarely worked out in full pads. Fox prefers contact drills.
"The biggest surprise was his bluntness. A lot of coaches sugarcoat stuff, but Foxy just said it like it was without pulling any punches," defensive tackle Brentson Buckner said. "If you weren't doing a good job, he told you and told you how you had to do it the next time -- or else."
The changes paid off immediately: The Panthers opened the 2002 season 3-0. There were still tweaks to be made, though, and Carolina slipped into an eight-game losing streak.
But the Panthers of old would have packed it in from there. With Fox's leadership, they rallied to a 7-9 finish.
Fox and general manager Marty Hurney went to work in the offseason, bringing in a powerful running back to carry the offensive load (Stephen Davis) and gambling on a no-name quarterback to add a little fire (Jake Delhomme).
Both players worked out wonderfully for the Panthers, as have all of Fox's draft picks.
Although selecting defensive end Julius Peppers with the No. 2 overall pick in the 2002 draft seemed like a no-brainer, the pick was questioned by those who thought Peppers didn't fit Carolina's immediate needs. And taking offensive lineman Jordan Gross in the first round in 2003 didn't exactly make a huge splash, but Fox went with his instinct. Peppers and Gross have been anchors for the lines.
As is his style, Fox plays down the significance of his personnel decisions.
"We're trying to locate the best human talent available, just like the other 31 teams in the National Football League," he said. "It's kind of our lifeblood, it's a lot of hard work, and we've been fortunate."
Copyright 2018 The Associated Press. All rights reserved. This material may not be published, broadcast, rewritten or redistributed. We strive to uphold our values for every story published.