Los Angeles — Lakers standout Kobe Bryant sprained his surgically repaired right shoulder Monday night and sat out the second half of an 89-79 victory over the Cleveland Cavaliers.
The Lakers were already short-handed, playing their fifth game without Shaquille O'Neal (strained right calf) and ninth without Karl Malone (sprained knee ligament).
O'Neal said before the game he was getting better and close to playing again -- perhaps Wednesday night against Denver. Malone is eligible to come off the injured list for that game, but isn't expected to do so.
Bryant's injury put a damper on his first game against rookie sensation LeBron James. Bryant went directly from high school to the NBA in 1996 and James did the same this season.
Gary Payton and rookie Brian Cook scored 13 points each, Devean George had 12 points and 12 rebounds, and Slava Medvedenko added 11 points for the Lakers (23-11).
Zydrunas Ilgauskas led Cleveland with 19 points and eight rebounds. James had 16 points and seven assists, but committed six turnovers.
Lakers spokesman John Black called Bryant's injury a sprained acromio clavicular joint and said the guard would have an MRI exam today.
Bryant was injured with 5.7 seconds left in the first quarter when he faked Cleveland's Kedrick Brown into the air outside the three-point line and Brown landed on Bryant's shoulder.
In obvious pain, Bryant made three free throws, but left the game after the first quarter ended and went to the locker room for X-rays, which were negative.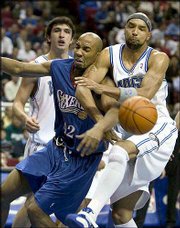 Bryant returned to the game with 7:33 remaining in the second period. His only shot was a left-handed jumper from outside the foul line that didn't come close, and he left the game for good with 2:27 left before halftime.
Bryant was again taken to the locker room and didn't return. He finished with 10 points, five rebounds and two assists in 17 minutes.
Bryant had surgery on his shoulder June 12 -- four weeks after the Lakers were eliminated from the second round of the playoffs by San Antonio.
He had an inflamed bursa removed and a frayed labrum trimmed in his shoulder during the operation.
Mavs 127, Knicks 121, OT
New York -- Allan Houston stood near midcourt defending Michael Finley, repeatedly glancing over at coach Don Chaney to see whether he should foul.
Precious seconds ticked away before Houston finally committed a foul, and the crowd at Madison Square Garden went ballistic. A chant of "Fire Chaney!" filled the arena once again as the New York Knicks, after rallying from a 20-point deficit in the second half, lost to Dallas.
"It was bad communication. I'll take the blame for that," Chaney said after the Knicks lost for the fifth time in six games.
With Dallas leading 123-119, Penny Hardaway missed a three-pointer and Kurt Thomas committed a loose ball foul with 28.5 seconds left.
Dallas inbounded to Finley, who crossed midcourt and held the ball waiting to be fouled.
"I don't know if they knew the circumstances or the clock differential or what have you," Finley said. "In the heat of the moment sometimes you lose focus of those things."
A total of 111/2 seconds ticked off before Houston finally fouled him, and Finley made both shots to wrap up the Mavericks' first road victory against an Eastern Conference team.
"I wasn't really thinking like I should have," said Houston, who said he was as much to blame as Chaney. "I got a mental block, honestly, because I thought we may have been down three, and I didn't look on the clock. I was kind of waiting on someone telling me to foul, and I should have been aware."
Dirk Nowitzki had 31 points and 10 rebounds, Steve Nash added 28 points on 12-for-16 shooting.
Sixers 87, Magic 82
Orlando, Fla. -- Allen Iverson regained his scoring touch in time to save Philadelphia. Still struggling with his shooting following a knee injury, Iverson scored 26 points -- his most in more than a month. Iverson has only been back a week after sitting out 10 games because of a bruised right knee. But he has a while to go to regain his All-Star form.
Iverson shot 9-for-29, 1-for-4 on three-pointers, with seven assists and six turnovers. The 76ers are 3-2 since Iverson returned.
Samuel Dalembert set career highs with 15 points and 11 rebounds. He fouled out late, but only after his block of Tracy McGrady's driving dunk with 2:54 remaining blunted Orlando's comeback.
Dalembert, who blocked three shots, started because Derrick Coleman missed his 12th game of the season because of a left knee sprain.
Glenn Robinson added 19 points, and Kenny Thomas and Eric Snow each added 13. Thomas also tied his season high with 16 rebounds.
McGrady scored 32 points for Orlando, including 10 of the Magic's 16 in the fourth quarter. He also had 10 rebounds.
Grizzlies 115,
Warriors 113, 2OT
Oakland, Calif. -- Shane Battier scored six of his 14 points in the second overtime, including the go-ahead basket.
Mike Miller scored 24 points for Memphis, which has gone over 100 points in all five of its games this month. Jason Williams had 15 points, 12 assists and six rebounds for his fifth double-double of the season. Battier also added 10 rebounds.
Erick Dampier had a season-high 23 points, 22 rebounds and a season-high seven blocks but it wasn't enough. Dampier had his 18th double-double of the season and it marked the second time in his career he's been over 20 in both categories.
Grizzlies coach Hubie Brown became the franchise leader in victories with 47 as his team won in Oakland for just the sixth time in 16 trips.
Jason Richardson, who added 21 points, dunked with 8 seconds left in the first overtime to tie the game at 108 and send it into a second extra period. Mike Dunleavy came up with a loose ball at midcourt and dribbled it down before finding an open Richardson.
Williams inbounded to James Posey and Richardson tied him up and the jump went to Williams. Posey missed a desperation three at the buzzer.
Nick Van Exel added 23 points, 16 after halftime, and Clifford Robinson 15.
Copyright 2018 The Associated Press. All rights reserved. This material may not be published, broadcast, rewritten or redistributed. We strive to uphold our values for every story published.