Guangzhou, China — SARS-wary southern China mobilized a mass cleanup effort Thursday, sweeping streets, slaughtering more civets and targeting the "four dangers" -- rats, roaches, flies and mosquitoes -- in its attack on creatures it suspects of carrying the virus.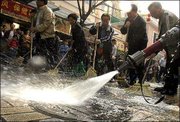 The push toward a more pristine Guangdong province came the same day the country's first SARS patient of the season was released from the hospital -- and, minutes later, a waitress in the provincial capital of Guangzhou was pegged as the second suspected case.
Thursday's main cleanup took place at Guangzhou's upscale Dongshan Market, where well-heeled consumers can choose from among 20 types of rice and 30 varieties of soy sauce.
Hundreds of residents took up brooms in already tidy streets as brigades of government journalists snapped photos. But where the masses once swept in unison, the modern-day workers had to pause every time their cell phones rang.
"Everybody work together. Do more to improve hygiene. Exterminate the four dangers. Lift the level of public health," proclaim 1950s-style slogans on red banners around town. They seem especially incongruent in today's Guangzhou, one of China's most modern cities.
Authorities said Thursday that a waitress in Guangzhou could be China's second SARS patient since the disease was pronounced under control in July. The announcement came just as the first patient -- also in Guangzhou -- was pronounced recovered and allowed to go home after three weeks in the hospital.
Copyright 2018 The Associated Press. All rights reserved. This material may not be published, broadcast, rewritten or redistributed. We strive to uphold our values for every story published.