Denver — A winter storm that brought up to 3 feet of snow to parts of Colorado's high country Saturday was blamed for a fatal plane crash and an avalanche that temporarily shut down Vail Pass.
A twin-engine plane trying to land in heavy snow crashed less than a quarter-mile from the runway at Cortez-Montezuma County Airport in southwestern Colorado, said Lt. William Conner of the Montezuma County Sheriff's Office. The pilot, the only person on board, was killed.
Two witnesses told the Cortez Journal the plane appeared to have snow on its wings when it rocked back and forth, rolled and then nosedived to the ground.
Westbound lanes of Interstate 70 on Vail Pass were closed for about three hours after an avalanche left about 6 feet of snow on the road. No one was caught in the slide.
Traffic was rerouted while crews plowed the road and worked to eliminate the threat of more avalanches, officials said.
"I'm ecstatic to see this much snow," Craig Grimes, of Atlanta, said as he waited in his car for the road to reopen. He and his wife had arrived in Denver in the morning and were on their way to ski at Aspen.
The west side of U.S. Highway 160 in Wolf Creek Pass in southwestern Colorado also was blocked by avalanches.
More than 100 avalanches have been reported in Colorado's central mountains and San Juan Mountains since a storm dumped up to 3 feet of snow beginning Friday.
On Friday, an avalanche in Idaho crashed onto a mountainside cabin, killing a couple as they slept. At one point Friday morning, 25 major roads were closed by snow slides in eastern and central Idaho.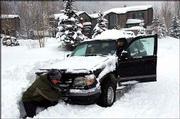 Blizzardlike conditions also temporarily closed 40 miles of Interstate 80 on Friday in southwestern Wyoming and more than 70 miles of the interstate on Thursday in California's Sierra Nevada.
Also Thursday, large sections of Interstate 5 were closed in Oregon and California because of heavy snowfall.
Copyright 2018 The Associated Press. All rights reserved. This material may not be published, broadcast, rewritten or redistributed. We strive to uphold our values for every story published.