Athens, Ga. — Late in the second overtime, with Georgia clinging to a slim lead, Jonas Hayes looked over at his twin brother, Jarvis, who was sitting in the stands for the first time this season.
"He asked me if I was tired," Jonas Hayes said. "I said not really, but, man, I was tired."
His fatigue hardly showed.
Hayes had four of his career-high 25 points in the second OT and added 10 rebounds, helping Georgia upend No. 3 Georgia Tech, 83-80, Saturday.
Jarvis Hayes, a guard with the Washington Wizards, was honored before the game, part of Georgia's tradition of bringing back former basketball lettermen. He sat courtside in a Herschel Walker throwback jersey.
"I'm so happy for him and those guys," he said after the game, as he signed autographs. "I can't stop smiling."
Jonas Hayes missed two free throws that would have given the Bulldogs (8-3) a four-point lead with 20.7 seconds left in the second OT, but Jarrett Jack missed a layup on the other end.
The rebound fell into the lap of Georgia's Chris Daniels, who was sitting on the floor, and he passed to Levi Stukes. He was fouled and made one free throw, and B.J. Elder missed a long, desperation three-pointer just before the buzzer.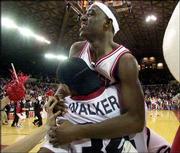 After it was over, fans mobbed the Georgia players at halfcourt in celebration.
"I think this is a momentum builder for us," Jonas Hayes said. "It says a lot about our character. We just held together as a team."
The Yellow Jackets (12-1) lost for the first time, snapping a school-record streak to start the season. They haven't won in Athens since 1976.
No. 2 Duke 73,
Clemson 54
Clemson, S.C. -- Daniel Ewing scored 19 points, and J.J. Redick 17 to give coach Mike Krzyzewski his 600th win at Duke. Krzyzewski moved to 600-176 in 24 seasons with the Blue Devils (10-1, 1-0 Atlantic Coast Conference). He becomes the 13th coach in NCAA Division One history to reach that milestone at one school and the fourth fastest all time behind Adolph Rupp of Kentucky, John Wooden of UCLA and Dean Smith of North Carolina.
No. 4 Arizona 93, Arizona State 74
Tempe, Ariz. -- Arizona gave coach Lute Olson his 700th career victory, with Channing Frye playing preseason All-American Ike Diogu to a standstill in the Wildcats' rout of rival Arizona State. Salim Stoudamire had 26 points, and Frye had 17 points and eight rebounds to help the Wildcats (9-1) win their eighth in a row. Olson is 700-240 in 31 years as a coach at Long Beach State, Iowa and Arizona, including 508-148 in 21 years with the Wildcats.
No. 6 Wake Forest 70, New Mexico 61
Winston-Salem, N.C. -- Wake Forest overcame a miserable start to remain undefeated, getting 18 points from Chris Paul in a win over New Mexico. The Demon Deacons (9-0) extended their home winning streak to 22 and got strong play from Taron Downey, who scored 11 of his 13 points in the second half. The Lobos (7-4) saw their five-game winning streak end and have lost 19 straight away from home.
No. 10 Saint Joseph's 90, George Washington 81
Philadelphia -- Jameer Nelson scored 29 points to lead Saint Joseph's to a victory over George Washington, extending the Hawks' season-opening winning streak to a school-record 11 games. Dwayne Jones had his second straight double-double with 23 points and 10 rebounds, and Delonte West added 18 points for the Hawks in the Atlantic 10 opener for both teams.
No. 11 Louisville 91, Murray State 69
Louisville, Ky. -- Francisco Garcia scored 17 points and set a Louisville record with 15 assists to lead the Cardinals to a win over Murray State. Luke Whitehead scored 23 points and Larry O'Bannon had a career-high 20 for the Cardinals (9-1), who won their 23rd consecutive home game against a nonconference opponent. Louisville coach Rick Pitino improved to 16-1 -- and 4-0 this season -- against ex-assistants who have become head coaches. First-year Murray State coach Mick Cronin was Pitino's top assistant the past two years.
No. 14 Florida 87, Florida State 73
Gainesville, Fla. -- Anthony Roberson scored a career-high 28 points, and Florida wore down Florida State with a full-court press. Roberson, a sophomore, made seven three-pointers to help the Gators (9-2) win their fourth straight since dropping two in a row after rising to No. 1 in the Associated Press' poll.
No. 15 Pittsburgh 70, William & Mary 55
Pittsburgh -- Antonio Graves, starting because top scorer Carl Krauser has a groin injury, hit three three-pointers during a 24-5 run over the final 81/2 minutes of the first half for Pittsburgh (14-0). Jaron Brown scored 19 points, Chevon Troutman 18 and Graves 10 during Pittsburgh's 34th consecutive home victory, 28 at the Petersen Events Center.
No. 17 Syracuse 96, Michigan State 83
Syracuse, N.Y. -- Josh Pace had a career-high 22 points, Billy Edelin added 22, and Hakim Warrick had 21 to lead Syracuse. It was the ninth straight victory for Syracuse (9-1). Paul Davis led Michigan State (5-6) with 21 points, and Chris Hill had 16 points and nine assists.
No. 18 Wisconsin 75, College of Charleston 49
Madison, Wis. -- Devin Harris scored 19 points, and Zach Morley added 18 for Wisconsin. The Badgers (9-2) extended their home winning streak to 20 games. Mike Benton scored 11 points for College of Charleston (9-2), which had won nine straight games.
No. 20 Illinois 80, Illinois State 73, OT
Champaign, Ill. -- Deron Williams, back after missing three games because of a broken jaw, scored 20 points. The Illini rallied from an 11-point deficit, Nick Smith's two free throws tied it at 68 at the end of regulation, and Illinois (9-2) went on to its 22nd straight victory at Assembly Hall.
No. 22 Vanderbilt 95, TCU 60
Fort Worth, Texas -- Jason Holwerda had 15 points to help Vanderbilt improve to 11-0. Matt Freije added 14 points and nine rebounds.
No. 24 Miss. State 68, Ark.-Little Rock 58
North Little Rock, Ark. -- Lawrence Roberts scored 11 points in a 23-6 Mississippi State run and made key free throws and rebounds in the final minute.
Copyright 2018 The Associated Press. All rights reserved. This material may not be published, broadcast, rewritten or redistributed. We strive to uphold our values for every story published.