Kansas has an economic problem.
That's the message Lawrence resident Shirley Martin-Smith has found herself delivering as chairwoman of the Kansas Chamber of Commerce and Industry.
Martin-Smith, owner of Lawrence-based Martin-Smith Personnel Services, has been the bearer of bad news about the state's economy during the first half of her one-year term, which ends in July.
"My impression is that Kansas sometimes doesn't realize that Kansas has got a problem," Martin-Smith said. "We all feel like there is not that much wrong. But many business people have been watching jobs dwindle and companies close. We can cite those examples in Lawrence.
"A lot of times, though, we sit and wonder why it happened instead of doing something about it."
The 27-year Lawrence resident and former mayor of the city agreed to take the top spot in the Topeka-based Kansas Chamber, which has 7,500 members, to change that.
"My expectation of the Kansas chamber is for it to advocate my interests as a business owner," Martin-Smith said. "I'm not sure I can say we've always done that."
Change in leadership
Martin-Smith says one of her biggest accomplishments was having a hand in the hiring of a new leader in January 2003.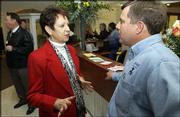 The board hired Lew Ebert, a 22-year veteran of the Pennsylvania Chamber of Commerce, to serve as the organization's president and chief executive.
These days, some people may mistake Ebert for a weatherman. He's constantly talking about the climate -- the state's business climate.
"Leading states are taking a much more active role in improving their business climates," Ebert said. "We probably haven't paid attention to our business climate for the last decade, and it shows."
Improving Kansas' business climate is the new mantra for the organization.
Ebert frequently cites a new "competitive index" that the chamber developed. It compiles data from 13 reports that rank the states in terms of economic activity and economic development. Ebert said the reports showed Kansas fared no better than average overall and was well below average in some categories.
Here's some of the issues that the Kansas Chamber of Commerce are pushing during the 2004 legislative session:¢ Tort reform: Pushing legislation to require courts to more closely scrutinize who can be sued as part of a class action lawsuit.¢ Worker's compensation insurance: Lobbying for legislation to reduce the insurance rates companies pay by making it more difficult for employees with pre-existing medical conditions to file worker's compensation claims.¢ Unemployment benefits: Supporting legislation that would control the amount businesses pay for unemployment benefits. The legislation would bar the state from increasing the amount of unemployment benefits paid to workers for at least two years.
Among the rankings he often uses to lobby legislators is a 36th-place showing in a study that ranks the 50 states in terms of business taxes, and a 32nd-place ranking when it comes to friendly policies for small businesses.
"There has to be a recognition in the state that the competition for jobs is fierce," Ebert said. "We have to understand that we need to be in the game, and we won't be in the game if we continue the way we're going."
Martin-Smith said the chamber's members have appreciated the focus on improving the business climate. She said more financial contributions from businesses have allowed the organization's budget to increase by about 10 percent to $1 million.
"That's because they know where our focus is now," Martin-Smith said. "In the past we didn't have a consistent message, but in the past year we've really taken time to learn what matters to the Kansas business community."
Strategy criticized
Not everyone is thrilled with the chamber's message.
"We'll work with them 100 percent on economic development, but we're not going to do that at the expense of the workers," said Jim DeHoff, executive director of the Kansas AFL-CIO. "No way are we going to do that."
The labor union believes that is exactly what the chamber is doing. DeHoff says when chamber leaders talk about improving the business climate or lowering the cost of doing business, they often are talking about programs that harm the working class.
An example, DeHoff said, was a piece of legislation being pushed by the chamber this session that would make it more difficult for some employees to file worker's compensation claims.
The bill would remove companies from being liable for worker's compensation claims related to pre-existing conditions of an employee.
"If I hire someone today with a bad knee and two days later they hurt their knee on the job, I'm 100 percent liable," Ebert said. "That doesn't seem fair."
DeHoff, though, said the chamber's proposed changes take the system in the wrong direction.
"The chances of filing for bankruptcy if you are hurt on the job are already pretty great," DeHoff said. "The system now just isn't covering the costs."
The chamber also has found itself at odds with some in the state's education community. The chamber has been a strong opponent of Gov. Kathleen Sebelius' proposal to raise a series of taxes to boost funding for public education.
Ebert said the chamber was a strong supporter of education but said the tax increases would do more to hurt the state's economy than help education.
Blake West, vice president of Kansas NEA, said there were plenty of businesses that don't share the chamber's view. He said on the same day that the chamber was testifying against Sebelius tax proposal, businesses from Johnson County spoke in support of the plan. Officials from the Lawrence Chamber of Commerce also told legislators they would be open to discussing tax increases to boost education spending.
"I would say that it appears the communities that have healthy business communities are the ones who are supportive of the (tax) plan," West said. "That seems to contradict some of the ideas that the Kansas Chamber has been supporting."
DeHoff said he thought the chamber was painting an overly dark picture of the state's business environment in an effort to win support for pieces of legislation like the worker's compensation changes which are billed as ways to reduce the cost of doing business.
"I don't think Kansas' outlook is any more gloomy than any other state at this point," DeHoff said. "I don't think they're really working on issues that would help the economy."
Future of state
Martin-Smith is convinced the state's economy needs help. Her employment services company, which is a franchise of the staffing giant Adecco, has been in business since 1987. In addition to a Lawrence office, she also has offices in Topeka and Wichita.
"I can tell you that I think we don't have enough jobs for our high school graduates, and I know we don't have enough for our college graduates," Martin-Smith said.
But Martin-Smith isn't just worried about keeping young, first-time job seekers in the state. She said one of the reasons she agreed to serve as the chamber's chairwoman was because she had some unsettling revelations about her own future in the state.
"One of my biggest goals is to make sure I can retire here," Martin-Smith said. "As I see the cost of living going up in Kansas, I'm not sure I'll be able to. That's a big issue for me.
"It hit me one day that I'm not necessarily planning on living here for the rest of my life, and that is definitely a new thought for me."
Copyright 2018 The Lawrence Journal-World. All rights reserved. This material may not be published, broadcast, rewritten or redistributed. We strive to uphold our values for every story published.