Wichita — As he stood on the awards stand Saturday while another Kyle was announced Class 4A 171-pound state champion, Kyle Flory could have cried.
But Baldwin wrestling coach Kit Harris wouldn't let him, waving his arms in encouragement so Bulldog fans at the Kansas Coliseum would cheer the senior.
"I'm not sad that he lost," Harris said, fighting back emotions. "I'm just sad that he's not going to wrestle for me anymore."
Flory might have missed out on history when Rose Hill's Kyle Davis defeated him 5-3, stealing his shot at a second straight championship -- which would have made him BHS's only two-time champ.
Yet Harris said Flory, who finished his season 42-4 with 150 career victories, already had established himself as Baldwin's top wrestler.
"I don't buy into that stuff about after you've won state once, you got to win the next year," Harris said. "Not in this sport. It's too tough.
"I told him there is nothing to hang his head about. He's not just a great wrestler, he's a fine young man."
Flory said he tried not to put pressure on himself, but it was "natural" to do what he'd done before.
Former Baldwin wrestler Witt Hinton, who along with Harris' brother, Jay, are the only wrestlers ever to win state for the Bulldogs, said sometimes there were surprises.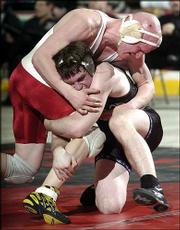 Hinton might have been one of the biggest, claiming the 275-pound championship a few years back despite being oversized by nearly 100 pounds.
"Anything can happen," he said with a smile. "It was just one match that didn't go his way when so many others did."
Both Harris and Flory felt a little uneasy at the start of the match because of Davis' different stance.
"I didn't feel comfortable from the start in the neutral position. I didn't think Kyle was seeing his shots too well," Harris said.
But Flory certainly did when he overcame a 2-1, third-period deficit with a takedown with 52 seconds remaining.
"I still didn't think I was in control," Flory said.
And he wasn't.
After a brief blood timeout, Davis slid out of Flory's grasp for an escape that tied the contest at 3. With 25 seconds left, Flory was out of position when he went on offense, and Davis took advantage with a winning takedown.
Flory half-heartedly smiled when asked where his honors ranked him.
"I'm proud of all the honors," Flory said. "But I just wanted to top off my career with one more championship. Hopefully, though, somebody else real soon will do even better than me."
Baldwin senior Derek Lang came back all the way in the consolation bracket to take third place at 160 with a 4-2 decision over Douglass' Ben Kersting.
After surviving double overtime Friday, Santa Fe Trail's Justin Wiscombe got beat by the sudden-death scoring system Saturday in the 152-pound final. When Fort Scott's Alvin Metcalf escaped from Wiscombe with a quick maneuver in the second overtime, he pulled out a dramatic 2-1 victory.
"We won one like that and we lost one like that," said SFT coach Regan Erickson of Wiscombe's win over De Soto's Neil Erisman Friday on an escape in double overtime. "At this level a lot of them are going to be that close and come down to things like the coin toss, and that certainly was the case in this one."
Wiscombe wasn't the only Charger who fell in the finals. Teammate Lorenzo Mundy lost to Andover's Isaac Wall, 8-0, in the 112-pound final.
In addition to the Chargers' two second-place medals, Travis Eden (145) finished fourth, as did 275-pounder Daniel Shively.
"I wish we could have had a little better showing in the finals, but overall I'm pretty pleased," said Erickson, whose team finished ninth in 4A with 68 points. Baldwin took 18th, while Kansas City Turner held off Haysville Campus with 152 points.
"We have most everyone coming back and we need to take advantage of that. We need to set some high goals for ourselves and go after them."
Mill Valley's Justin Broadbent looked as if he had just switched the momentum in his 103-pound championship match.
But the next moment it was Broadbent who was on his back, trying to avoid being pinned. With four seconds left in the second period, Newton's Seth Metzler's reversal was good for a state title.
"I had him on his back and he switched off to a different pinning combo, put me in the headlock and pinned me," Broadbent said.
Jaguar teammate Earl Johansen finished fifth at 152 pounds with a 3-0 win over Adrian Rios of K.C. Turner.
Mill Valley finished 16th in 5A with 50 points, while Ottawa was 25th with 18 points.
De Soto's Neil Erisman only can hope his third trip to state next season will be the charm. After losing as a freshman in the title match, Erisman fell in a semifinal to Santa Fe Trail's Wiscombe in Friday's 152-pound semifinal. But the sophomore strung together two matches to take third place with a 7-3 victory over Columbus' Schyler Sharpe.
Both Eudora's Josh Barr and Ottawa's Michael Espinosa fell in fifth-place matches. Barr lost, 4-2, to Jaden Kutz of Douglass in 4A's 189-pound class. Shawnee Heights' Sean Hoffman defeated Espinosa, 4-1, in 5A's 215-pound division.
Copyright 2018 The Lawrence Journal-World. All rights reserved. This material may not be published, broadcast, rewritten or redistributed. We strive to uphold our values for every story published.