Surprise, Ariz. — "We Believe" just won't cut it any more with the Kansas City Royals.
Oh, that slogan was perfect for 2003, when the Royals defied critics and delighted fans with their first winning season in nearly a decade.
But this year, manager Tony Pena has a different rallying cry.
Thursday, the first day of full-squad spring workouts, Pena handed out T-shirts bearing the phrase "Together We Can" and one more word:
"October."
"That's our goal," Pena said.
And for the first time in a long time, those high hopes don't sound like wishful thinking.
"I think we've got a real good shot to win the division this year," owner David Glass said. "On paper, this team is better than last year's team. You never know until you go out and compete, but I'm more of an optimist."
Glass' evaluation actually sounds more guarded than the one he offered in 2003, when the Royals were coming off a 100-loss season.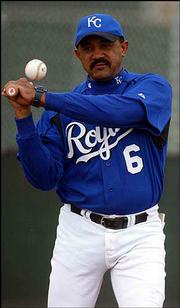 They had trimmed payroll and no longer could afford their two most effective starting pitchers: Paul Byrd, who won 17 games in 2002, and Jeff Suppan, their Opening Day starter in the three previous season. Closer Roberto Hernandez, who had 56 saves during the previous two seasons, also was gone.
"The outside expectations were to lose between 100 and 120 games last year," general manager Allard Baird said.
Still, Glass predicted a .500 season -- and people laughed at him.
"I almost got run out of Kansas City, because that sounded outlandish," he said.
The Royals were better than Glass' prediction, finishing 83-79 for their first winning season since 1994 and spending 93 days atop the AL Central.
Shortstop Angel Berroa was named the AL Rookie of the Year, and Tony Pena was voted the league's Manager of the Year.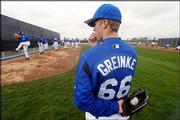 The Royals followed that success with a flurry of offseason activity, signing 11 free agents from other clubs and retaining five of their own.
Their acquisitions included two-time AL MVP Juan Gonzalez and catcher Benito Santiago, a four-time All-Star.
The free agents who stayed include left-handed starter Brian Anderson, who won 14 games in 2003; reliever Curtis Leskanic, who had a 1.73 ERA in 27 appearances after being acquired in a trade with Milwaukee; and third baseman Joe Randa, who hit .344 after the All-Star break.
"Last year when we arrived at camp, we had no confidence," Pena said. "What I see this year is everybody has a lot of confidence. If you can win your division, anything can happen in a short-series (in the playoffs)."
It also helps that the AL Central is full of teams who share the Royals' thrifty approach. The Minnesota Twins won the past two Central titles, but have lost key players, including Eric Milton, A.J. Pierzynski, Eddie Guardado and LaTroy Hawkins.
"We're in a division that has some good teams, but it's not real high-payroll teams," Glass said.
Copyright 2018 The Associated Press. All rights reserved. This material may not be published, broadcast, rewritten or redistributed. We strive to uphold our values for every story published.