Tempe, Ariz. — As if Bartolo Colon's 98 mph fastball weren't imposing enough, he has been tutored in intimidation by a master.
Colon, who joined the Anaheim Angels during the offseason, credits fellow Dominican Pedro Martinez with instructing him to throw inside and stare batters down.
"Pedro always talks with me in the Dominican Republic," Colon said through an interpreter. "He talked to me a lot about (throwing inside), told me that's where the groceries are, where you earn your living. I was afraid of throwing inside and hitting somebody. But I know I have the control now."
Colon, who seems a bit shy, also learned the art of staring from the hardly timid Martinez, the Boston Red Sox ace.
"The other thing he talked to me about was, before every pitch, look the batter in the eye and try to intimidate him, because he's doing exactly the same thing to you," Colon said. "It's a staring contest, and you want to see who wins."
Martinez, a three-time Cy Young Award winner, was happy to help out.
"I talk to him a lot about maintaining that inside part of the plate to his advantage because he throws hard," he said at Boston's camp in Fort Myers, Fla. "The best pitch he has is a fastball. The toughest part to hit it is inside.
"I worked a lot on him on changing speeds. I told him in a key situation sometimes power, power, power, yeah, you can probably throw 100 mph fastballs, and they're going to hit it out if they know it's coming."
Colon, who pitched for the Chicago White Sox last year after earlier stints at Cleveland and Montreal, has a career record of 100-62, with a 3.86 ERA.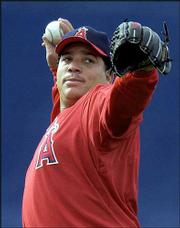 The bulky 5-foot-11, 250-pound right-hander went 15-13 last season with a 3.87 ERA, nine complete games and 173 strikeouts in 242 innings. He has averaged 16 victories and 176 strikeouts during six full major-league seasons.
Colon's 17 complete games during the past two years were the most in the majors and his 4751/3 innings the third-highest total. Colon and Greg Maddux are the only pitchers to win at least 14 games in each of the last six years.
"He's a workhorse, a big man," Angels manager Mike Scioscia said. "And Bartolo has evolved into a pitcher, not just a thrower."
Anaheim pitching coach Bud Black, a former Kansas City Royal, worked with Colon when both were with Cleveland.
"Bartolo loves to compete, loves when it's his day to pitch," Black said. "He's so good at changing speeds to keep hitters off-balance; he can throw his fastball anywhere between 90-98 mph."
Angels catcher Bengie Molina knows what it's like to face Colon.
"He really goes at hitters, is very aggressive," Molina said. "He says, 'Here it is, you try to hit it.'"
Copyright 2018 The Associated Press. All rights reserved. This material may not be published, broadcast, rewritten or redistributed. We strive to uphold our values for every story published.