Boston — Maurice Greene had to clear his head after a disappointing performance at the 2003 world championships.
So he went home to California and did nothing -- except let his body heal.
Now Greene, a Kansas City, Kan., native, is completely fit and ready to show he can be just as dominant as he was three years ago. He gets his first shot at this weekend's U.S. Indoor Track and Field Championships.
The three-day event starts today with the weight throw finals, along with preliminaries in the 800 meters and men's 60 hurdles.
Greene will run in the 60 dash, with the semifinal and final Saturday. Gail Devers also will highlight the meet Saturday when she runs in the 60 dash and hurdles.
Heats in the men's and women's 60 and the women's 60 hurdles originally scheduled for today were scrapped because not enough runners entered.
Greene has not competed this season and wants to make a triumphant return with an eye toward another Olympic gold.
"I know as long as I'm healthy that I can continue to run as fast as I ran before," Greene said Thursday. "When I'm hurting, I'm not able to do the technical things, so therefore my race is not as fast as it was before. But now all those little injuries are gone, so nothing is holding me back."
In 2000, Greene was the premier male sprinter in the world after winning gold in the 100 at the Sydney Olympics. But he fought through various injuries ever since winning the 100 at the 2001 world championships while running despite a quadriceps pull.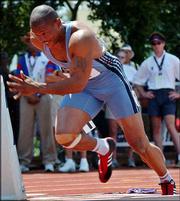 At worlds last year, Greene was going for a fourth straight title in the 100. But he pulled up in his semifinal heat because of another quadriceps injury and had to go home.
"It was very frustrating," Greene said. "I went through a lot the last few years. When I got home from Paris, I didn't see the track, I didn't think about track, I didn't want to hear about track or anything else. I just need to be away and relax my mind."
He did not think about what happened and instead focused on the future. Whether he can achieve his goal of gold at the Aug. 13-29 Athens Games remains to be seen. Greene has not put together a solid race in the 100 since 2002. That's the year he lost his world record in the event, which he set in 1999.
Many believe the 29-year-old Greene's best days are behind him. He has another view.
"You have to show them," he said. "Once you start running the times that you used to run, then what are they going to say? 'Oh, well, we thought his best days were over. We thought he was finished, but he's showing us something different?'
"I am my biggest critic. I put more pressure on myself than anyone puts on me. They can say what they want to say."
When asked about other top American sprinters, Greene said no one had impressed him much this season. Greene holds the world record in the 60, setting the mark of 6.39 seconds the last time he ran at the indoor championships, in 2001.
But he has no time goals this time around. He just wants to show that he still can run.
"Basically, what it will do is, it will show my competitors what kind of shape I'm in and what my abilities are right now, so they can start getting fearful if I go out there and run the way I'm supposed to run," he said. "You have to be ready in July, then you have to be ready for the Olympics."
The top two finishers in each event this weekend qualify for the world championships next month in Hungary.
There are other intriguing story lines. The 37-year-old Devers is the American record-holder in the 60 and 60 hurdles, and she won each at a meet in Fayetteville, Ark., this month.
Jen Toomey, who broke the American record in the 1,000 last weekend, will race in the 800 and 1,500. Pole vaulter Stacy Dragila goes after her eighth national indoor title, and current world leader Christian Cantwell competes in the shot put.
Also Thursday, track's world governing body invited Bryan Clay to compete in the heptathlon at world indoors. Kim Schiemenz, runner-up in the heptathlon last year, will compete in the pentathlon.
Clay finished second in the decathlon behind reigning world indoor and outdoor champion Tom Pappas in 2002 and 2003. Pappas will not defend his world indoor heptathlon title, instead preparing for the outdoor season. Pappas had surgery on his right shoulder Jan. 27 to remove cartilage. The gold-medal favorite for the Olympics is training at full strength, but did not want to risk injury by competing too soon.
Copyright 2018 The Associated Press. All rights reserved. This material may not be published, broadcast, rewritten or redistributed. We strive to uphold our values for every story published.