When people across Kansas see the Jayhawk logo, they think of Kansas University.
But the Jayhawk isn't the only symbol of the university.
There's the "KU" in block letters, the university seal, dozens of logos for individual schools and programs, the crimson and blue, and others.
Think those symbols and colors don't matter?
Listen to these comments posted Thursday to a Journal-World message board about proposed new uniforms for the Marching Jayhawks, which include black trousers, hats, plumes and gloves: "Style -- great. Color -- you have to be kidding! Did someone forget to tell the new band director KU colors are Crimson and Blue?"
Similar uproar was heard in 2002, when football coach Mark Mangino introduced a new uniform with home jerseys of a darker navy blue than had been seen in years, and helmets of the same color.
Or how about the tumult when the struggling Jayhawk basketball team this season has resorted to red uniforms?
And which of those Jayhawks in the various schools' logos is the right one?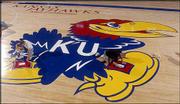 Visual Identification Team
Now a committee at KU is working to develop rules for which symbols and words best represent the university in different situations. It's called the Visual Identification Team.
The team's outcome could limit the graphics, type, logos and colors that represent KU on items ranging from football helmets to letterheads.
"KU is out in the state a lot," said Lynn Bretz, director of university relations. "People might see us more if we had a standard mark instead of the wide range of marks we have."
The committee of public relations and marketing officials is one of four working on an "integrated marketing" campaign initiated by Janet Murguia, the executive vice chancellor for university relations who left KU last month. Kevin Boatright, who is succeeding Murguia on an interim basis, now leads the effort.
Using privately donated funds, KU has hired consultant Christopher Simpson to help. Other groups are working to increase state funding, student recruiting and improving KU's reputation throughout the state.
Names, colors, logos
David Johnston, marketing coordinator for the KU Memorial Unions and co-chairman of the Visual Identification Team, said revamping KU's image would include several issues.
First, different campus entities and KU affiliates refer to the university differently -- or not at all. For example, it's the KU Memorial Unions, but the Kansas University Endowment Association, and the Kansas Alumni Association.
Another issue is KU's official colors. Johnston noted campus entities -- most notably the athletic teams -- use different shades of crimson, blue and yellow. And track and field teams for a time wore pink and blue -- with no crimson at all.
Then there are the logos. Nine of KU's 14 schools have their own logos, as do some programs such as the Kansas Biological Survey and the Schiefelbusch Institute for Life Span Studies. Use of KU's official seal also has been sporadic across campus.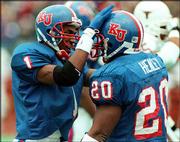 Johnston said the goal was to develop a set of consistent logos that would help those outside KU identify with the university.
"We need something that looks as good on a T-shirt as it does on a research proposal," he said.
Designs by summer
Paul Vander Tuig, director of trademark licensing, said he didn't expect any major changes to apparel or other merchandise sold to promote KU. Nearly all materials depicting the school's mascot use the currently approved Jayhawk, which hasn't changed much since it was drawn in 1946.
But the committee may decide to limit the number of typefaces used on the materials. It also may recommend that the baseball, basketball and football teams use the same typeface on their uniforms, hats and helmets.
"It probably makes some sense to agree internally which one we're going to use," he said.
Boatright, the interim executive vice chancellor, said he expected to have preliminary recommendations by the end of the semester, with possible testing of designs this summer.
After decisions are made, he said, the new visual identity plan would probably be phased in over time.
"I don't think we're going to overnight make this transition," he said. "We don't want people throwing things away (such as letterheads and business cards) solely to solve this problem."
Copyright 2018 The Lawrence Journal-World. All rights reserved. This material may not be published, broadcast, rewritten or redistributed. We strive to uphold our values for every story published.