Baldwin — Many teams lack senior leadership.
Baldwin High's girls basketball team is not one of them.
Baldwin's six seniors accounted for 57 points Thursday in a 66-36 blowout of Louisburg.
The senior-night win gave the Bulldogs (16-4) a spotless Frontier League record -- and the league title outright.
"That was one of our goals," Baldwin coach Eric Toot said. "We thought that we had the talent to do it."
The Bulldogs certainly had the talent to run the Wildcats (6-14) out of the gym, claiming a 32-13 lead going into half. Baldwin sealed the win in the third quarter, outscoring Louisburg 23-8.
Baldwin, as usual, maintained balanced scoring.
Senior Kari Garrison had a team-high 14 points, but fellow seniors Emily Brown and Anna Gillispie tied for a close second with 12 points apiece.
After the game, Baldwin's seniors from the girls and boys squads were honored.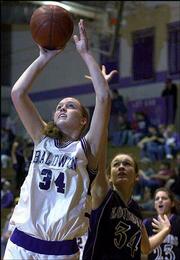 "We've been to a couple of senior nights, and they've been coming off the court crying, and we were like, 'Are we gonna do that?' Brown said. "It's very exciting, but also very sad."
The Bulldogs have another home game, though, Monday as the top seed in their sub-state opener against Anderson County.
"Starting tomorrow, everybody's even," Toot said. "Hopefully, we have two three game seasons and the first one starts on Monday."
Louisburg boys 70, Baldwin 58
The Baldwin boys didn't have as nice of an ending to the regular season.
The Bulldogs (8-12) had no answer against Louisburg's Tyler O'Brien, who poured in a team-leading 30 points. The senior forward, who has been averaging around 30 points over the last three weeks, also finished with two blocks and two thunderous dunks.
"He's an awfully tough player to stop in there," BHS coach Jeff Haas said of O'Brien. "Give Louisburg credit. They gave him a steady dose of basketballs."
Behind the easy jump shots from O'Brien and strong perimeter shooting from a group of guards, Louisburg (12-8) took a 21-8 lead into the second quarter.
BHS senior Andy Hannon led the Bulldog attack with a team-high 21 points and four steals. Senior Micah Mason registered five steals, including four in the third quarter.
The loss gave Baldwin a 5-4 Frontier League record.
"It's not what we wanted, but we had some special circumstances," Haas said. "I don't think 5-4 is anything to hang our heads about."
Tuesday, Baldwin will start sub-state as the sixth seed at third-seeded Spring Hill.
Baldwin girls 66, Louisburg 36
Louisburg 6 7 8 15 -- 36
Baldwin 16 16 23 11 -- 66
Louisburg -- Kelsey Bowden 10, Katie Dider 8, Jessie Kreiser 6, Tayloer Stacks 5, Juree Hampton 4, Jordan Bauer 2, Molly Kueser 1.
Baldwin -- Kari Garrison 14, Emily Brown 12, Anna Gillispie 12, Erica Ogle 7, Kalie Harris 6, Jamie Lawrenz 6, Laura Poullot 3, Kara Tompkins 2, Denise Orloff 2, Amy Craig 2.
Louisburg boys 70, Baldwin 58
Louisburg 21 17 20 12 -- 70
Baldwin 8 10 16 24 -- 58
Louisburg -- Tyler O'Brien 30, Bryan Dunn 12, Jake Worthington 6, Mike Miller 6, Cale Rigney 5, Caleb Dean 4, Chad Wagner 3, Kent Cannon 2, Brett Scotts 2.
Baldwin -- Andy Hannon 21, Ben Knoll 10, Ryan Jorgensen 8, Jeremy Wright 6, Micah Mason 5, Brian Turk 4, John Stockdale 2, Emery Baughn 2.
Copyright 2018 The Lawrence Journal-World. All rights reserved. This material may not be published, broadcast, rewritten or redistributed. We strive to uphold our values for every story published.