Construction is expected to begin by July on Lawrence's first co-housing neighborhood, developers said Monday.
Investors with Delaware Street Commons, a $2.8 million residential project in the 1200 block of Delaware Street, have hired a construction company and said the project was close to bearing fruit.
"It is getting really exciting because now we feel like we're very close," said Rich Minder, treasurer of the Delaware Street Commons development team.
Co-housing communities differ from typical neighborhoods because residents share some facilities and amenities. The East Lawrence project would include a shared garden, clubhouse, laundry facility and an area for shared meals. Residents also would share equipment, such as lawn mowers.
Supporters of the idea say it combines home ownership with increased connection and cooperation with neighbors.
"We think people like the idea of not living on some cul-de-sac and never really knowing who lives next to them," said Minder, who also is a member of the Lawrence school board.
The idea has been in the discussion stage for nearly four years. Interested residents began talking about such a neighborhood in the fall of 2000, but buyers have been slow to materialize.
"It is a new concept for the region," Minder said. "It has taken a long time for people to understand what it is all about."
The hiring of Edwardsville-based Neighbors Construction Co. should be a sign that the project was not just talk, he said.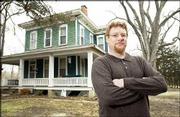 The project is on track to receive final approval from city commissioners in May or June, Minder said. Construction is expected to begin almost immediately after final approval is given.
The development will be significantly different from what was envisioned when it was proposed in 2000. The number of living units in the project is expected to shrink to 22 from 32, and the total size of the development is down to 2.2 acres from 3.2 acres. The Lawrence-Douglas County Planning Commission is scheduled to hear a request to reduce the size of the project at its 6:30 p.m. meeting Wednesday at City Hall.
Cost concerns also caused the group to abandon the idea of renovating an existing 1865 Italianate home into a community gathering area for the neighborhood. Instead, a new 2,750-square-foot community center -- with exercise room, sauna and hot tub -- will be built.
Buyers have been found for 10 of the 22 units, Minder said. Prices for the living areas are expected to range from $100,000 for a two-bedroom flat to about $200,000 for a three-bedroom townhome.
Karen Kipp, Lenexa, has committed to buy a three-bedroom flat in the development. She said she was optimistic the project would be developed.
"It's not like a commune or anything," Kipp said. "We don't depend on each other economically. It is not going to be that different than living in a condominium association. The only twist is we do a little more to encourage people to get to know each other.
"It goes back to those times when people got to know their neighbors better. I think there are a lot of people longing for that."
Copyright 2017 The Lawrence Journal-World. All rights reserved. This material may not be published, broadcast, rewritten or redistributed. We strive to uphold our values for every story published.