Lubbock, Texas — Texas women's basketball coach Jody Conradt isn't about to let one loss or a drop in the poll ruin the Longhorns' season.
No. 9 Texas Tech earned its first regular-season victory against a top-ranked team Sunday, beating the No. 1 Longhorns, 62-49.
"It's one game. We're not going to talk about it and belabor it in negative ways," Conradt said. "We have a really tough stretch ahead, and we just have to regroup and get ready.
"We're going to move on and hopefully make our mark at the end of the season."
The Longhorns, who took over the top spot in the Associated Press rankings Feb. 9 for the first time since Dec. 28, 1987, are sure to drop in the new poll. They also have a tough schedule down the stretch, playing host to No. 19 Baylor on Wednesday and facing No. 8 Kansas State and No. 24 Oklahoma.
Tech, which lost 82-73 to Texas on Feb. 1, relied on a familiar game plan Sunday: stopping the Longhorns' inside game.
"They scored 47 points total the first time, so we wanted to limit what their post players had," Tech's LaToya Davis said. "We did a good job of following the game plan and doing the things we talked about."
Davis matched her career high with 15 points, and Jolee Ayers-Curry added a season-high 14 for Texas Tech (23-4, 9-4 Big 12 Conference).
Heather Schreiber and Nina Norman each scored 14 points for Texas (23-3, 11-2), which had its nine-game winning streak snapped.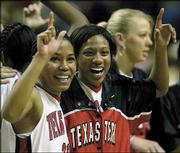 The Raiders last beat a top-ranked team in 1993, when they defeated Vanderbilt, 60-46, in the semifinals of the NCAA Tournament. Tech went on to win its only national championship that year.
Tech had runs of 12-2 and 9-1 and took a 47-38 lead on a layup and free throw by Davis with 9:25 remaining. Tech trailed by five at the half and regained the lead by scoring 10 straight points in the second half.
"In Austin, it was just the opposite," Tech coach Marsha Sharp said. "We got in a hole in the first three minutes of the second half there. We talked about not letting the game get away from us. We knew we had found some things in the first half, and they just went out and executed exactly what we asked them to do in the locker room."
Conradt said Texas Tech's second half surge was the difference.
"They came out with a fire, and we stood around and watched for a few possessions," she said. "We felt good at the half. We had a little lead."
The Raiders held Texas to just two field goals in the first 11 minutes of the second half, and the Longhorns came no closer than six points the rest of the way.
Texas' point total was its lowest of the season. The Longhorns' previous low was 51 in a victory over Colorado last week.
Copyright 2017 The Associated Press. All rights reserved. This material may not be published, broadcast, rewritten or redistributed. We strive to uphold our values for every story published.