Jerusalem — A suicide bomber detonated explosives aboard a Jerusalem bus during the Sunday morning rush hour in an upscale city neighborhood, killing at least eight people plus the bomber, wounding more than 50 others and flinging body parts across streets and into a nearby gasoline station.
Israeli officials said the blast, the second bus bombing in the same area of Jerusalem in a month, was evidence of the need to build a massive wall and fence complex around and through the West Bank. The blast came on the eve of hearings about the barrier project that start today in the International Court of Justice in The Hague, Netherlands.
"If anyone had even the slightest doubt as to the necessity of Israel's security fence, those doubts have now disappeared," said David Baker, an official in the office of Israeli Prime Minister Ariel Sharon.
A 23-year-old Palestinian from a village near the West Bank city of Bethlehem reportedly set off the explosives in the midsection of the green Egged No. 14 bus, which was jammed with a standing-room-only load of commuters, students and soldiers at 8:27 a.m. on the first day of the Israeli work week. Police said the bomb was stuffed with metal scraps from a construction site, which sliced through passengers and severed body parts.
"I felt the earth shaking, it was like an earthquake," said Raed Shweiki, 23, a Palestinian from east Jerusalem who was pumping gasoline barely a dozen yards from the bus at the Sonol service station next to Liberty Bell Park. "I saw the glass from the windows of the bus flying toward us -- and arms and legs. I ran."
Palestinian officials condemned the attack, and the Palestinian gas station employees, who were visibly shaken and taken by ambulance to a hospital, cursed the bomber. Palestinian Prime Minister Ahmed Qureia, speaking to reporters in the West Bank city of Ramallah, called for "an immediate halt to these actions," which he said give Israel an excuse to continue building the barrier.
The al-Aqsa Martyrs Brigades, a group that is associated with Palestinian leader Yasser Arafat's Fatah movement, took responsibility for the attack.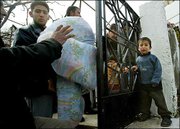 Copyright 2018 The Lawrence Journal-World. All rights reserved. This material may not be published, broadcast, rewritten or redistributed. We strive to uphold our values for every story published.