Minneapolis — In front of a hostile, sellout crowd, San Antonio's quiet man helped lead his team to victory at the foul line.
Tim Duncan, a notoriously bad free-throw shooter, made seven of eight foul shots in the fourth quarter to finish with 25 points, and Tony Parker had 26 as San Antonio beat first-place Minnesota, 94-92, Sunday.
Hedo Turkoglu had 13 points -- all in the second half -- and a career-high 14 rebounds, and Manu Ginobili added 11 points as the Spurs snapped Minnesota's five-game winning streak and pulled within three games of the Wolves in the Midwest Division.
The Spurs also wrapped up a season-high seven-game road trip at 6-1. Their one loss was 89-87 Friday night at Cleveland.
"It's huge to end the trip this way," Duncan said. "We knew it was important because they had four games on us, and we might see them again in the playoffs."
San Antonio's win gives each team one victory in the season series. The division rivals play two more games next month.
In a game featuring two of the NBA's premiere post players and leading MVP candidates -- Duncan and Kevin Garnett -- Duncan, who entered the game shooting 58 percent from the free-throw line, helped win the game at the line in the final seconds.
Duncan was 2-for-6 from the line before the fourth, but he calmly sank two crucial foul shots with 18.1 seconds left to give San Antonio a 92-88 lead in front of a record Target Center crowd of 20,347.
It was a good reminder of why Duncan is the reigning MVP.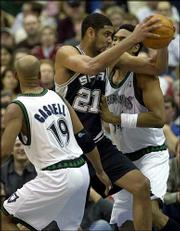 "He's our heart and soul, just like Kevin is Minnesota's heart and soul," Spurs coach Greg Popovich said.
Garnett, who led Minnesota with 28 points and 10 rebounds, answered the free throws with a quick layup and Duncan was fouled on the ensuing inbound.
This time, Duncan made only one of the free throws. The Wolves then opted for Sam Cassell's mid-range jumper with 8.8 seconds left instead of trying a three-pointer for a tie. Cassell hit the shot, and the Spurs got the inbound to Ginobili, who was fouled with eight seconds to go.
Minnesota had one more chance when Ginobili missed the second foul shot. Cassell found Latrell Sprewell on the wing, but Ginobili played him tight and the clock expired.
Cassell said it was a busted play.
"We just had a miscommunication about which side we wanted to run the play," he said. "I chose one way, Spree went the next way. It happens, you know what I'm saying? You can't blame the game on one possession."
Rockets 123,
Hawks 121, 3OT
Houston -- Yao Ming scored a career-high 41 points, including eight in the last of three overtimes, to help the Rockets win the NBA's longest game since the 2000-01 season.
Cuttino Mobley added 28 points, and Steve Francis had 16, including nine in the overtimes. Jason Terry led Atlanta with 27 points, and Stephen Jackson added 24.
Houston also won the NBA's last three-overtime game, beating visiting Indiana, 127-118, March 13, 2001.
Magic 87, Pistons 86
Auburn Hills, Mich. -- Juwan Howard's three-point play with 3.5 seconds left lifted Orlando past Detroit.
Detroit had the ball and the lead with 10 seconds left, but Tracy McGrady stole the ball from Chauncey Billups, and Howard was able to fight off Richard Hamilton to hit the tying layup. Howard then hit the free throw to put the Magic ahead.
Rasheed Wallace missed at the buzzer for the Pistons, who have lost eight of nine. Wallace had 14 points in his first full game for Detroit, two days after he was forced to miss the second half of a loss to Minnesota because paperwork from the three-team trade that sent him from Atlanta to Detroit had not been certified.
Howard led the Magic with 20 points, and McGrady added 19 on 3-of-20 shooting. Hamilton led the Pistons with 23.
Kings 96, Raptors 81
Toronto -- Peja Stojakovic scored 27 points, and Mike Bibby had 21 to lead Sacramento for its sixth win in seven games. Bibby had 18 points in the second half for the Kings, who were without injured center Brad Miller, suspended forward Chris Webber and injured guard Bobby Jackson. Chris Bosh had 20 points for the Raptors.
Cavaliers 92, Knicks 86
New York -- LeBron James scored 22 points in his first game at Madison Square Garden, where the fans turned on the home team as the Knicks fell behind by 23 points in the fourth quarter. Whether they were booing or chanting the name of the departed Keith Van Horn, the matinee crowd let it be known that they weren't happy seeing the Knicks play so poorly. The loss was the fourth in five games for New York, which now embarks on a four-game Western road trip.
Pacers 94, Jazz 80
Indianapolis -- Jermaine O'Neal had 21 points, 10 rebounds and seven blocks to help Indiana pull away in the fourth quarter. O'Neal shot just 4-of-10 from the field, but hit 13-of-15 free throws as the Pacers won for the fifth time in six games. Al Harrington, starting in place of the injured Ron Artest, scored 14 points, and reserves Austin Croshere and Jonathan Bender added 15 and 11.
Bucks 113, Wizards 85
Washington -- Michael Redd scored 25 points to help Milwaukee snap a seven-game road losing streak. Keith Van Horn, playing his second game since the three-way trade that brought him from New York, came off the bench to score 13 points in the Bucks' first road win since Jan. 5.
Lakers 104, Suns 92
Phoenix -- Kobe Bryant scored 16 of his 40 points in the fourth quarter, helping give the Lakers their first four-game winning streak since December. Bryant also had a team-high seven rebounds and five assists, Gary Payton scored 20 points, and Shaquille O'Neal added 19 for the Lakers in their sixth victory in seven games. Amare Stoudemire had 25 points and 12 rebounds for Phoenix.
SuperSonics 108, Celtics 87
Seattle -- Rashard Lewis scored 28 points, hitting six three-pointers, in the SuperSonics' first victory since the All-Star break. Ray Allen added 20 points and 10 assists for Seattle, which was 18-of-33 from three-point range. Paul Pierce had 34 points for Boston. The Celtics have lost six straight to drop to 1-11 under interim coach John Carroll.
Copyright 2018 The Associated Press. All rights reserved. This material may not be published, broadcast, rewritten or redistributed. We strive to uphold our values for every story published.