New Orleans — A sunken boat and the search for its five crew members paralyzed major traffic Sunday on the Mississippi River, stranding dozens of large ships and thousands of cruise passengers.
The 178-foot offshore supply boat Lee III sank after colliding with a container vessel on a foggy Saturday morning in the Southwest Pass, the only channel up the Mississippi River deep enough for large oceangoing vessels.
Commercial divers were expected to look for bodies today inside the partially submerged ship about 80 miles southeast of New Orleans, near where the river empties into the Gulf of Mexico.
There was no way to tell when the river may reopen, said Coast Guard Petty Officer Jonathan McCool.
"Probably later than sooner," he said. "It's going to be a complicated evolution. And it's going to hold things up for a while."
River traffic was held up as New Orleans' Mardi Gras celebrations were building up to their peak Tuesday. Cruises were fully booked, and passengers were either diverted to other ports or left waiting in the city.
"It couldn't have happened on a worse weekend," said Gary LaGrange, chief of the Port of New Orleans.
About 40 ships too big for alternate routes were waiting to enter Southwest Pass, and about the same number were waiting to leave port, said Lt. Rob Wyman, a Coast Guard spokesman.
Two large cruise ships scheduled to dock in New Orleans had to be diverted to east New Orleans and Gulfport, Miss. The cruise lines used buses to get thousands of passengers to and from temporary boarding points.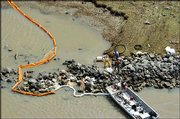 Royal Caribbean's Grandeur of the Seas and its 2,600 passengers were stranded in New Orleans, a city in the throes of Mardi Gras excess.
Copyright 2018 The Associated Press. All rights reserved. This material may not be published, broadcast, rewritten or redistributed. We strive to uphold our values for every story published.