Cap-Haitien — Rebels captured Haiti's second-largest city with little resistance Sunday, claiming Cap-Haitien as their biggest prize in a two-week uprising that has driven government forces from half the country.
The fighters fired celebratory rounds as people looted and torched the police station and other buildings. A pall of black smoke hung over the city of 500,000.
Flush with victory after the takeover of Cap-Haitien, rebel leader Guy Philippe said he was setting his sights on the capital, Port-au-Prince.
"I think that in less than 15 days we will control all of Haiti," Philippe said in an interview with two foreign reporters in a Cap-Haitien hotel room as he swigged from a bottle of Prestige beer.
As Philippe spoke, his fighters, clad in camouflage uniforms and black flak jackets, sat by the hotel pool in lounge chairs, drinking beer and eating dishes of goat, chicken, rice and beans.
Aristide, wildly popular when he became Haiti's first freely elected leader in 1990, has lost support since flawed legislative elections in 2000 that led international donors to freeze millions of dollars in aid.
Opponents accuse him of breaking promises to help the poor, allowing corruption fueled by drug-trafficking and masterminding attacks on opponents by armed gangs -- charges the president denies.
The rebels say they have no political agenda beyond ousting Aristide, but the man who started the rebellion, Gonaives gang leader Buteur Metayer, on Thursday declared himself the president of liberated Haiti. The rebels have made no effort to install any kind of control, beyond halting a near-riot as people rushed to get food aid Thursday in Gonaives.
In taking Cap-Haitien on Sunday, rebels said their force of about 200 fighters only met resistance at the city's airport, where Philippe said eight militant civilians loyal to President Jean-Bertrand Aristide were killed in a gunbattle.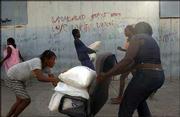 U.S. diplomats on Saturday presented a U.S.-backed peace plan that was accepted by the beleaguered Aristide but resisted by the opposition coalition Democratic Platform, which says any plan must include Aristide's resignation.
Copyright 2018 The Associated Press. All rights reserved. This material may not be published, broadcast, rewritten or redistributed. We strive to uphold our values for every story published.