Backers of an effort to clean up the water that eventually flows through Lawrence faucets say they're picking up support for the plan.
More than a dozen local and state officials gathered Friday at Clinton Reservoir to show their support for the Upper Wakarusa Watershed Restoration and Protection Strategy, designed to slow the flow of soil, waste and chemicals into the lake.
"That's our major source of water for the city," said City Manager Mike Wildgen. "Everybody who uses the lake as a water source should be interested in protecting it and keeping it clean."
Joe Harkins, director of the Kansas Water Office, said restoring the watersheds that feed reservoirs is one of the top three water issues facing the state. The Wakarusa watershed that feeds Clinton is no exception, he said.
"We've built a lot of reservoirs over the last 50 years that are deteriorating, because they're silting in and having water-quality problems," Harkins said. "We've never succeeded in having a comprehensive approach to the problem."
Clinton Lake is a relatively young reservoir. It was filled between 1977 and 1980, and is fed by the Wakarusa River and a series of streams, all of which make up the watershed, extending west into Shawnee, Osage and Wabaunsee counties.
The city of Lawrence has state-granted rights to 4.86 billion gallons of water a year from Clinton Lake, plus an additional 8.15 billion gallons from the Kansas River. For now, that's more than enough -- in 2001, the city's 28,000 water customers consumed 4.46 billion gallons, about 56 percent of capacity.
The Kansas Department of Health and Environment already is closely monitoring both Wakarusa watershed and the lake for fecal coliform and "eutrophication," the process by which a body of water becomes enriched in dissolved nutrients that stimulate the growth of aquatic plant life, usually resulting in the depletion of oxygen.
City treatment plants clean the water before Lawrence residents drink or bathe in it. But Alison Reber, director of the Kaw Valley Heritage Alliance that crafted the watershed strategy, said such efforts aren't sufficient.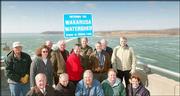 "When you think about it in terms of water treatment, you're missing a big part of what the lake means to this part of Kansas -- you bring a lot of tourism dollars into the area," Reber said. "If people aren't happy with the water ... we've kind of shot ourselves in the foot."
The plan relies heavily on current regulations to clean up the watershed. But it also proposes new measures: encouraging "clustered" rural development, discouraging new lakefront building, and developing incentives to promote organic farming along the watershed.
Those efforts, Harkins said, present a challenge "because of the multiple interests above these reservoirs -- private landowners and political jurisdictions."
But opposition to the Wakarusa plan hasn't materialized yet, Harkins said.
"That is because they are emphasizing volunteerism, not regulation," he said. "They're looking for opportunities that are win-win situations for landowners and local jurisdictions."
Protecting the Wakarusa watershed -- and others throughout the state -- will be on the agenda of the "Water and the Future of Kansas" conference next month in Lawrence. The seminar will be March 11 at the Lawrence Holidome.
"A lot of what we're trying to do in Kansas is work ... for assuring the future quality of our water resources, trying to emphasize the idea that it's a resource," said Don Snethen, watershed chief for the Kansas Department of Health and Environment. "It's important to everyone, and it's everyone's responsibility to take care of it."
Copyright 2018 The Lawrence Journal-World. All rights reserved. This material may not be published, broadcast, rewritten or redistributed. We strive to uphold our values for every story published.