Austin, Texas — Blessed with the deepest bench in the Big 12 Conference, if not the entire country, Texas coach Rick Barnes will use up to 11 players in tonight's UT-Kansas University men's basketball game at Erwin Center.
The Jayhawks, barring foul trouble, figure to counter with about eight bodies, meaning UT could have fresher legs come crunch time in the battle between two top-25 teams.
"I'm not worried about that," Jayhawk freshman J.R. Giddens said. "They can only have five players on the court at all times. They can have 13, 25, 30, 35 players ... but when we are on the court, it's five-on-five, baby, man-to-man, mano-a-mano."
Tipoff for tonight's game between the No. 11 Longhorns (19-4, 10-2 Big 12) and No. 21 Jayhawks (17-6, 9-3) is 8:05 p.m. at Erwin Center with a telecast on ESPN (Sunflower Broadband Channel 48).
"They have good players across the board," KU coach Bill Self said.
They have so many good players that UT senior Brian Boddicker said they "come in waves."
Barnes has noticed and rewarded almost all of them with significant playing time. Texas, believe it or not, has 11 players averaging between 14.6 and 29.2 minutes a game. Those 11 players average between 3.8 and 13.3 points per contest.
Barnes plays the guys who are competing the hardest on any given night.
"I like the word accountability," Barnes told the Austin American Statesman. "I like the words, 'Effort is not negotiable.'"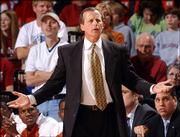 The effort has shown on the boards, a spot where KU has been vulnerable.
Texas, which leads the Big 12 in rebound margin, outrebounded Oklahoma, 46-30, in Saturday's 68-63 win in Norman, Okla., a game that kept the second-place Longhorns a full game ahead of KU in the league standings.
"If you don't have big, strong bruisers in there you better either be quick and athletic or big and strong," OU coach Kelvin Sampson said. "Texas' strength and its depth up front hurt us."
The Jayhawks were outrebounded 57-50 in Saturday's 90-89 overtime win over Iowa State.
"Can we rebound ball with their depth and big guys?" Self said, asking the question that could determine the outcome of tonight's game. "We're going to have to play tougher than we played and be better on the glass."
If KU runs out of gas tonight, Self won't use the excuse that the Jayhawks had to exert a lot of effort in Saturday's OT thriller; four of KU's starters played 35 or more minutes.
"I'd be worried about the quick turnarond if the outcome was different. This should pump some energy in us now," he said.
Meanwhile, Texas has those waves of bodies to worry about.
"The best thing about depth is you have the best bench in the nation, I think," sophomore Brad Buckman said. "When some dude's not playing well, someone else will step in. The worst thing is you want more playing time. But who cares? We're doing so well, you can't really complain."
"During the last four minutes," Boddicker noted, "hopefully our opponents won't have anything left."
The Jayhawks are hoping to reverse their fortunes of late on the road. KU, which has lost at Iowa State, Oklahoma State and Nebraska in successive road games, last lost four straight road games in 1999-00 (Missouri, Iowa State, Iowa and Oklahoma State).
KU last dropped four straight conference road games in the 1986-87 season (Missouri, Iowa State, Colorado and Nebraska). KU, which has suffered two straight double-digit road losses, last suffered three straight double-digit defeats in 1954-55 (to Colorado, Oklahoma State and Missouri in the Olympic playoffs in Columbia, Mo.).
Before that, one had to go back to 1905-06 for three straight double-digit road losses, to the likes of YMCA teams Evanston, Chicago Central and Iowa Muscatine.
"We should have some momentum," Self said of tonight's road battle coming off an exciting win over ISU. "A win like this will help us in Austin, at least it should. We needed to win a game where we had to fight and stick together."
Texas will be trying to snap a three-game losing streak to the Jayhawks. KU won last year, 90-87, at Allen Fieldhouse, and 110-103 the year before in an overtime game in Austin. In 2000-01, KU won, 82-66, in Lawrence.
"The last two years have been great games. Of course they'll be ready," KU point guard Aaron Miles stated.
Copyright 2018 The Lawrence Journal-World. All rights reserved. This material may not be published, broadcast, rewritten or redistributed. We strive to uphold our values for every story published.