For the first time since the 2000 season, neither rain nor snow prevented Kansas University's baseball team from playing Creighton, and it was a good thing for the Jayhawks that the weather cooperated.
The sunny skies and 57-degree temperature at game time provided the ideal climate for senior left-handed pitcher Ryan Knippschild to pick apart Creighton's lineup and guide KU (8-7-1) to a 5-1 victory in front of 750 fans in its home opener Sunday afternoon at Hoglund Ballpark.
"Our kids were really excited, and the crowd was outstanding today. It's something that we think we can build on," second-year KU coach Ritch Price said.
Creighton (1-2) looked poised to strike quickly in the first inning when leadoff hitter Gabe Lapito smacked Knippschild's first pitch up the middle for a single, but KU catcher Sean Richardson gunned Lapito down trying to steal second.
KU sophomore Matt Baty led off the bottom of the first inning with a double. Sophomore Ritchie Price bunted for a single and moved Baty to third. Richardson followed with an RBI single. Senior Matt Tribble added a sacrifice fly that scored Price and gave KU a 2-0 lead.
"When you haven't won a game in two weeks like we haven't, to get the lead early allows your players to relax and feel good about themselves," Ritch Price said. "It allows your pitcher to just pitch, and it lets you catch the baseball without any pressure."
Richardson scored in the third on Tribble's double to left-center field.
The Jayhawks closed out their offensive onslaught in the bottom of the fifth when Tribble started a two-out rally with another double to left-center field. Junior Travis Metcalf slapped a bloop double to shallow right that allowed Tribble to score. Sophomore Jared Schweitzer followed with a double to the same spot, allowing Metcalf to score, pushing KU's lead to 5-0.
Then it was up to Knippschild to take care of the rest. In the sixth, he gave up a single to Chase Odenreider, who advanced to second on an error and scored on Zach Daeges' single to left. After that, it was smooth sailing for the Jayhawks.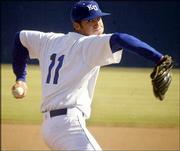 The defense had two errors, but only one proved costly. Meanwhile, Knippschild was efficient all day as he struck out five, allowed six hits and had no walks in eight innings.
"I had command with all of my pitches," Knippschild said. "When I got behind, I'd fight my way back."
Senior Chris Smart tossed in the ninth for Kansas and closed out the win, KU's first since beating Texas Southern, 8-0, Feb. 1.
The Jayhawks resume play today when they begin a four-game home series against Oakland (Mich.) University (0-0). Junior lefty Mike Zagurski will start for Kansas. First pitch is slated for 3 p.m. at Hoglund Ballpark.
"We're going to try to take advantage of each and every day this week because it looks like the forecast is good for all four days," Price said. "I told my club we can make as much progress in the next four days as we've made in the last month if we take advantage of it every day.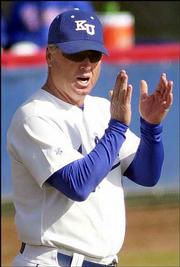 "We need to run a number off. We're going to try to put a number off that gets us in really good shape when we open up the Big 12."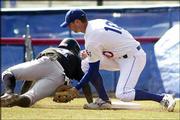 Copyright 2017 The Lawrence Journal-World. All rights reserved. This material may not be published, broadcast, rewritten or redistributed. We strive to uphold our values for every story published.