Los Angeles — Strong and sharp and bearing down on 100 years of living, Arthur Winston has drawn a bead on what it takes to age well.
He is probably older than you. If not, he has probably worked longer. If not, he has probably seen and struggled through more of society's changes, most of them experienced from a single vantage point: a sprawling South Los Angeles bus yard.
Known as Mr. Winston to most, he is walking history and living parable.
In 1924, at age 17, Winston started cleaning trolley cars for the Los Angeles Railway Co., which morphed and merged half a dozen times and is now the Metropolitan Transportation Authority.
He quit that job for a spell, then went back Jan. 24, 1934.
He has never left. For 70 years and counting, Winston has worked for the transit agency as a service attendant, applying spit, polish and love to vehicles ranging from the current fleet of buses to the trolley cars that once made the Los Angeles transit system a marvel.
Celebrity
For as long as he has endured, he has been astonishingly consistent.
In 70 years, according to the MTA, Winston has missed just a single day of work -- the day his wife died in 1988. The records show that he has never been late, never left early. He has never been so sick that a gulp of milk of magnesia couldn't stave off illness and let him drive down Arlington Avenue in the predawn darkness for yet another shift.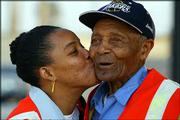 His walk is slow, but he can easily speed to a jog if he sees a 15-ton bus coming his way. He is slight, 5 feet 7, with skin the color of a cigar leaf. He hears what he wants to, has a straight back, a firm grip and keen, almond-shaped eyes.
In South L.A., Winston is something of a celebrity -- the result of being around so long that he seems to know just about everybody (or their great-great grandparents). People fuss over him. The barber refuses to take his money.
At work, it is much the same. "We wouldn't know what to do without him," says his boss, Alex DiNuzzo. "Once he arrives, we sort of know everything is going to be all right today."
'Just keep moving'
Sometimes Winston watches over the workers, just to keep them moving. Sometimes he helps check in buses. Sometimes he finds a dirty bus and starts working on it himself. Almost always, it seems, he is standing and walking.
"It ain't hard," says Winston, blowing into his hands to keep warm on a recent morning. "Just keep moving. Keep from freezing up."
Working men, Winston says, are simple and humble people. They use the money they earn wisely. They do not rush. They arrive 15 minutes before every shift. They keep their uniforms crisp. They see to it, even if the boss doesn't ask, that no bus leaves with grimy rims. And they absolutely do not fuss or mope or complain. These values, he says, have allowed him to survive.
Changing times
Winston will tell you that, when he started working at the bus yard, the bosses would fire a black man in a flash.
"It was ugly," he says. "But there was nothing we could really do about it. Not a thing."
Winston wanted to be a driver. Blacks weren't allowed to drive. They weren't even allowed to be mechanics. They were allowed to clean the buses and trolley cars.
So he stayed and he worked. He also watched things change.
The highest point came in 1997, when the MTA decided to name the bus yard after an elderly service attendant.
Today, the agency has 15 bus and rail yards, also known as "divisions." Most are identified by numbers. Only one is named for a person: The Arthur Winston Bus Division, off 54th Street and Van Ness Avenue.
"I guess, if you take things day by day, you live long enough. And if you live long enough, you see things you never thought you'd see," says Winston, walking around the yard, looking for specks of dirt on windshields. "That's sort of how it is with them naming this place after me. ... Of course, I'm not leaving just because it's got my name on it."
Copyright 2018 The Lawrence Journal-World. All rights reserved. This material may not be published, broadcast, rewritten or redistributed. We strive to uphold our values for every story published.