Excuse me, but was that the Big 12 Conference's version of deer, skunks, possums and armadillos? Surely, the Iowa State team that took Kansas University into overtime Saturday in Allen Fieldhouse cannot be road kill.
On paper, that's what the Cyclones are. They've lost 23 consecutive league road games. In person, though, they looked like title contenders.
Has KU reached the point where it cannot dispose of teams that usually lose on the road? Or did the Cyclones simply play out of their gourds?
No doubt Iowa State performed over its head, yet here it is mid-February, and the Jayhawks' profile is pretty much printed in indelible ink. Kansas can't control the boards, and first-year coach Bill Self has no punch off the bench.
Even with Wayne Simien snatching 14 rebounds and Jeff Graves coming off the bench to grab a dozen caroms, the Jayhawks were outrebounded 57-50 in the 90-89 overtime spine-tingler.
Moreover, Self could count only 11 points from non-starters, and five of those points were at the free-throw line. The impotent bench contributed a mere three baskets in 45 minutes -- two by Graves and one by Christian Moody. But that has been the rule this season rather than the exception.
That astounding 18-1 Iowa State run during a six-minute stretch of the second half surely was attributable to KU weariness because it featured no fewer than four ISU transition baskets.
Yet Iowa State should have been weary, too, especially big men Jackson Vroman and Jared Homan. But Vroman and Homan were the ones who beat their KU counterparts downcourt for the transition baskets.
What a game Vroman played. I can't remember the last time a visiting big man impressed me as much as the 6-foot-10 ISU Iowa State senior. Not only did Vroman collect a career-high 19 rebounds, he played 41 minutes and was whistled for just three fouls -- two in overtime.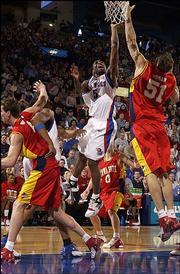 In retrospect, though, the Jayhawks were fortunate Vroman's shooting acumen didn't match his board work. Vroman came in as the Big 12's third-most-accurate shooter at 57.7 percent, but he missed 12 of 17 shots, many of them chippies.
Fortunately, too, ISU super freshman Curtis Stinson's shooting was sub-par. Stinson scored 26 points, but he also took 26 shots. One-to-one isn't a noteworthy shots-for-points ratio. Perhaps coincidentally, KU's Keith Langford, who spent most of the day guarding Stinson, also posted basically a one-to-one ratio with 17 points off 18 shots.
Still, Langford drilled arguably the most critical basket -- the three-pointer with :28.4 showing in regulation that forged the 72-all deadlock. Moments later, Langford blocked a Stinson shot, then almost drilled an off-balance shot from the right corner at the buzzer that would have won it.
"A big-time player hit a big-time shot," is how Simien described Langford's clutch, game-tying launch.
Chances are if Langford, who was off his shooting game all day, had missed that trey the Jayhawks would have suffered their most damaging defeat of the season -- much worse than that stunning one-point home loss to Richmond last month, because it would have all but destroyed this team's confidence, so fragile after last week's blowouts at Oklahoma State and Nebraska.
To further emphasize how costly a loss would have been, only one player of the KU roster -- senior Bryant Nash -- has experienced losing to another Big 12 team in Allen Fieldhouse.
If Kansas had lost Saturday to the team with the league's longest road losing streak, well ... let's just say the future -- to paraphrase the plaque at the entrance to City Hall -- would not be bright before the Jayhawks like a flame.
As it is, the Jayhawks will head Monday to Austin, Texas, without their tails between their legs. Kansas may have incurable woes on the boards and a nagging lack of point production from the bench, but the Jayhawks are nevertheless in third place in the league standings.
So even with the obvious weaknesses, the Jayhawks have shown they can overcome them. For all we know, Saturday's win was the catalyst the Jayhawks needed to rediscover the chemistry they'll need the rest of the way.
Copyright 2018 The Lawrence Journal-World. All rights reserved. This material may not be published, broadcast, rewritten or redistributed. We strive to uphold our values for every story published.