SACRAMENTO, CALIF. — He repealed the car tax hike and revoked legislation allowing illegal immigrants to get driver's licenses, but most of Gov. Arnold Schwarzenegger's first 100 days in office have produced little of the "action, action, action" he promised during the recall campaign.
California's budget problems, his focus since taking office Nov. 17, remain untamed and only part of the deficit would be closed if voters approve Proposition 57, the Republican governor's $15 billion bond measure that appears on the March ballot.
Still, many observers say they are willing to overlook Schwarzenegger's lack of progress in some areas because of his success in bringing together the warring parties.
"His major accomplishment so far is the spirit of bipartisanism that he's achieved," said Tom Campbell, a Republican former U.S. representative from the Bay Area and now dean of the business school at the University of California, Berkeley. "I think that's a very significant development to see Republicans and Democrats working together."
So far, however, only some of Schwarzenegger's campaign promises have been fulfilled.
He rolled back the tax increase immediately after taking office, and the driver's license law was repealed in early December. The governor also has reauthorized a spending and hiring freeze that former Gov. Gray Davis approved more than a year before, before he was ousted in the recall.
But he hasn't generated new revenue from renegotiated union contracts or tribal agreements. His workers' compensation reforms are still being debated in the Legislature. His campaign finance proposal was just floated last week and no jobs package has yet been introduced.
The audit of state spending isn't done. Even his budget for 2004-2005, some have argued, does not close the shortfall because it relies on more than $5.3 billion in borrowing and one-time savings -- meaning the state will face a budget gap the following year of more than $7 billion.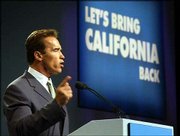 Copyright 2018 The Associated Press. All rights reserved. This material may not be published, broadcast, rewritten or redistributed. We strive to uphold our values for every story published.