Curtis Stinson put one hand over his throat, then followed it with another.
Iowa State's 21-year-old freshman from the Bronx, N.Y., flashed the streetball "choke sign" at Kansas University's basketball players after hitting a jumper to give the Cyclones -- who had trailed by 17 points -- a five-point lead with three minutes left in Saturday's KU-ISU battle at Allen Fieldhouse.
"I saw it. I thought it was silly," KU point guard Aaron Miles said.
Silly indeed.
The gag sign was a bit premature. KU tied the Cyclones on a three-pointer by Keith Langford with :29 left and outscored the gritty visitors in overtime for a pulsating 90-89 victory.
"He can feel how he wants to feel. The end result is the end result," Miles said.
It seemed a foregone conclusion the end result would be a KU victory with 16:30 left, when the Jayhawks (17-6 overall, 9-3 Big 12 Conference) held a 49-32 lead.
However, ISU (14-9, 5-7) -- which chipped the deficit to 61-49 at 9:44 -- then went on an 18-1 run to grab a 67-62 advantage with precious time remaining.
J.R. Giddens cashed his seventh three of the game, and Langford put in a stickback of a Giddens miss at 2:17 to tie the score at 67.
Yet KU still lagged, 72-69, at :39, when Langford, who had missed five of his last six shots and his first three threes, drained a straight-on three at :29 to tie the score.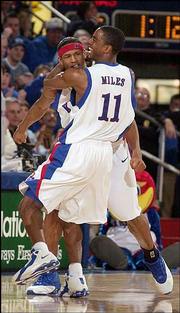 "It's the biggest shot anybody has made this year for us," KU coach Bill Self said.
Langford finished with 17 points despite an off shooting day. He hit just six of 18 shots, including one of five treys.
"I just shot the ball," he said of the tying trey. "Coach called a play, and I was surprised Aaron even made it to my side because I had been so cold. I'd rather myself make the play than trust anybody else to."
Miles said he wanted the rock in Langford's hands.
"I trust in Keith. I believe in Keith," Miles said.
Langford almost won the game in regulation.
After deflecting a shot by Stinson shot at :04, Langford hustled to the other end and missed a three from the corner at the regulation buzzer.
"In my mind, I wanted it to be good," Langford said, "but the way I threw it up there I was just hoping for the best."
It was on to overtime, where Miles, who had a 2-for-7 shooting day, opened the five-minute session with a three. Rejuvenated, the Jayhawks built a seven-point lead at 86-79 at 1:04, but Wayne Simien fouled out at 1:25, and it was shaky going the rest of the way.
In fact, KU led just 89-86 when Jake Sullivan misfired on a three at :05. Miles rebounded and fed to Giddens, who was hacked at :03.4.
Giddens, who had a career-high 24 points, including six threes the first half, missed the first free throw, but made the second to give KU a four-point lead. The Jayhawks needed that charity since Will Blalock buried a three at the buzzer.
"If I'd have missed that second free throw," Giddens said, "coach might have put his foot pretty far up you know where.''
Giddens missed three of four free throws in the final 1:12 of overtime, while Langford and Miles missed one of two. Michael Lee canned two big free throws in two tries.
"That first one rimmed in and out even though it was on target," Giddens said of his charity at 3.4. "I knew if I put the next one up a little higher, the next one would go in. Good thing it did because they came down and hit the three."
Giddens said it wasn't relief at the final buzzer that KU survived ISU, but unabashed joy.
"It's like a game you watch on TV or at the movies where everybody is fighting and clawing back," Giddens said. "It was like 'Hoosiers.' We were out there scrapping and hustling, and they were not giving in. We were not giving in. We were making plays, and they were making plays. It's basketball. It's beautiful. I'd rather be in a game like that instead of blowing somebody out because we'll need to win a game like that in the (NCAA) Tournament."
Self admitted he was relieved, but mostly proud and happy.
"That is probably the most fun I've had in the fieldhouse this year," Self said. "The Michigan State game was great, but it's about as much fun as I've had. You take away 10 minutes in the second half, and it was really fun. Guys showed courage and were fighting, which you like to see."
Of the 18-1 run, in which Stinson scored six and Jackson Vroman had six of his 17 points (with 19 rebounds), Self said: "They played well. We might have gotten a little tired. We became a jump-shooting team and weren't making jump shots.. They kicked our tails on the glass. We had bad shots, which led to long rebounds and led to transition."
That stretch was a near killer.
KU's Cyclone-killer the first half was Giddens, who hit six threes in 10 tries. He was one off KU's record for most threes in a half. Jeff Boschee hit seven against Kansas State in 2000.
"J.R.," Self said, "was terrific in the first half."
KU had three players in double figures. Giddens tallied 24 points, Simien had 20 to go with his 14 rebounds, and Langford scored a hard-earned 17 with six rebounds and five assists.
The Cyclones were led by Stinson, who had 26 points, followed by Vroman (17), Sullivan (16) and Blalock (12).
The only number that counted, Simien said, was the fact it was KU's 17th victory.
"Obviously we didn't want it to be that close," Simien said. "For a second we were dead in the water, but we came out with a win."
KU will travel Monday to Texas for an 8 p.m. tipoff.
Copyright 2018 The Lawrence Journal-World. All rights reserved. This material may not be published, broadcast, rewritten or redistributed. We strive to uphold our values for every story published.