Los Angeles — It's a school-record 23 consecutive victories and counting for Stanford.
The top-ranked Cardinal defeated UCLA, 73-60, Saturday to remain undefeated with two weeks left in the regular season.
Stanford improved to 14-0 in the Pac-10 and clinched its fourth conference title in six years and 11th overall. Rob Little led the Cardinal with 18 points, tying his career high.
"We want to make history," Little said. "Why not go out to win them all? It's a personal goal for everyone now, with four games left, to go undefeated. Why not?"
The Cardinal overcame a 13-point first-half deficit to beat Southern California on Thursday, then won its seventh in a row Saturday at Pauley Pavilion, the only opponent with such a streak in the arena's 39-year history.
"I'm really proud of our guys," Stanford coach Mike Montgomery said. "They came to L.A. to get a sweep to win the conference championship. That's pretty good stuff."
Stanford and No. 2 Saint Joseph's (24-0) are the nation's only undefeated Division One teams. No team since Indiana in 1976 has had a perfect season, and the Hoosiers won the national championship that year.
"It's not a focal point, but the more games we win, the closer it gets," Montgomery said.
Although the Bruins (11-12, 7-8) have lost nine of their last 11 under first-year coach Ben Howland, a win seemed possible based on their history against top-ranked teams.
"We felt we could beat them. We felt good coming in," said Dijon Thompson, who led UCLA with 17 points.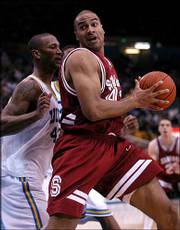 UCLA had defeated a No. 1 team in each of the last four seasons. But other than starting the second half with a big run that cut Stanford's lead to seven points, the Bruins were unable to muster much of a threat.
"It was really a big problem for us to come back," Howland said. "As soon as we had a couple of shots miss, it sped us up instead of slowing down, and you can't do that against a zone."
No. 2 Saint Joseph's 76, Temple 53
Philadelphia -- Delonte West scored 20 points, and Jameer Nelson had 18 for the Hawks (24-0, 13-0 Atlantic 10).
Saint Joe's got two three-pointers from Nelson during a 15-2 run late in the first half, helping the Hawks to a 41-23 halftime lead. The Hawks went 11-of-20 from three-point range after making a conference-record 20 in their 83-71 win against the Owls last month.
David Hawkins, who ranked third nationally with a 24.3 scoring average and had scored at least 20 points in 17 straight games, had 13 points on 5-for-21 shooting for the Owls (12-11, 6-6).
No. 5 Pittsburgh 67, West Virginia 58
Morgantown, W.Va. -- Julius Page and Chevon Troutman each scored 15 points for the Panthers (24-2, 10-2 Big East), who have won five straight games in the series between the schools 70 miles apart.
Tyrone Sally had 17 points for West Virginia (14-9, 6-6), while Joe Herber had 14 rebounds.
No. 6 Gonzaga 76,
Tulsa 56
Tulsa, Okla. -- Tony Skinner was 4-for-5 from three-point range and scored 12 points to lead Gonzaga to its 16th straight victory. Ronny Turiaf and Adam Morrison each had 13 points for the Bulldogs (23-2), who finished with a 48-25 rebound advantage.
No. 8 Connecticut 61, Notre Dame 50
Hartford, Conn. -- Emeka Okafor dominated inside for Connecticut with 14 points, a career-high 22 rebounds and seven blocked shots. The Huskies (21-5, 9-3 Big East) avenged an 80-74 road loss to the Irish on Feb. 9 by holding Chris Thomas to 13 points. Notre Dame (13-10, 7-6) shot 19 percent in the first half and never got closer than four points all game.
No. 9 Kentucky 68, Auburn 59
Auburn, Ala. -- Gerald Fitch scored 18 points, and Erik Daniels added 15 to lead the Wildcats (19-4, 9-3 Southeastern Conference), who have won 19 of the past 20 meetings with the Tigers.
Ian Young led Auburn (13-10, 4-8) with 13 points.
No. 17 Cincinnati 66, No. 10 Louisville 61, OT
Cincinnati -- Field Williams scored 18 points, including a fadeaway jumper that set up overtime, for Cincinnati.
Tony Bobbitt made a three-pointer and two clinching free throws in overtime as the Bearcats (18-5, 9-3 Conference USA) made amends for one of their worst losses in coach Bob Huggins' 15 seasons.
Louisville (17-6, 7-5) beat the Bearcats by 27 points Jan. 21, matching their worst loss under Huggins. Both teams have struggled since, with Louisville losing five of its last six overall. Francisco Garcia scored a career-high 27 points for Louisville.
Oregon State 90,
No. 14 Arizona 84
Corvallis, Ore. -- David Lucas and Chris Stephens each had 22 points, and Oregon State held on.
The Wildcats (17-7, 9-6) had won three straight going into play the Beavers (11-13, 4-9), the Pac-10's ninth-place team.
After leading by as many as 11 points in the first half, the Beavers came out energized for the second. Channing Frye led the Wildcats with 18 points and 13 rebounds.
No. 16 North Carolina 78, Florida State 71
Chapel Hill, N.C. -- Rashad McCants scored 21 points, and Raymond Felton had 17 points, 10 rebounds and seven assists for the Tar Heels (16-7, 6-6 Atlantic Coast Conference).
Tim Pickett had 25 points, and Andrew Wilson added a career-high 24 for the Seminoles (18-9, 6-7), who have lost 22 consecutive conference road games.
No. 19 Providence 70, Miami 57
Providence, R.I. -- Rob Sanders scored 14 points to lead five players in double figures for the Friars (18-5, 9-3).
No. 23 Memphis 73, UAB 66
Memphis, Tenn. -- Sean Banks scored 21 of his 24 points in the second half to lead the Tigers (19-4, 10-2), who took over first place in Conference USA.
Vanderbilt 74,
No. 24 LSU 54
Nashville, Tenn. -- Matt Freije had 22 points, and Dawid Przybyszewski was 5-for-5 on three-pointers and added 21 points for the Commodores, who improved to 14-1 at home this season. Vanderbilt (17-6, 6-6 SEC) held LSU (17-6, 7-5) to a season-low 32 percent shooting.
Arkansas 82,
No. 25 South Carolina 66
Fayetteville, Ark. -- Reserve Kendrick Davis scored 19 points, and Ronnie Brewer added 17 to lead the Razorbacks (12-12, 4-9 SEC), who ended a four-game losing streak. Tre Kelly had 18 points for South Carolina (20-6, 7-5).
Copyright 2018 The Associated Press. All rights reserved. This material may not be published, broadcast, rewritten or redistributed. We strive to uphold our values for every story published.