EAST RUTHERFORD, N.J. — The New Jersey Nets are playing so well, even their sick players are playing like "Superman."
Kenyon Martin had 23 points, 13 rebounds, four steals and four blocks, and the Nets tied the longest winning streak in the NBA this season -- 13 -- with a 97-84 victory Saturday night over the New Orleans Hornets.
"To be truthful, I really didn't feel well, but I'm here, so I am going to show up and play," said Martin who also had two assists in 40-plus minutes despite having trouble breathing because of a sinus infection.
The one play that everyone talked about after the Nets won their 12th straight under coach Lawrence Frank was his block on a three-pointer by Darrell Armstrong with 6:33 left.
New Jersey had a 14-point lead at that point, but the block was special.
Martin jumped out to the top of the right key to guard Jamal Mashburn and then leapt from about a step outside the left side of the key to deflect the shot from deep in the left corner.
"Kenyon Martin is Superman," Frank said. "I have never seen a block like that. He was guarding five people in one possession."
"That was a huge play," Martin said. "I haven't done that in a while."
The Nets also haven't lost in a while.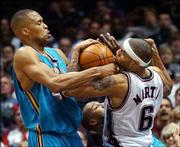 The victory extended Frank's league record for best coaching start and tied the North American mark for the best start in professional sports.
Joe Morgan took over the Boston Red Sox from John McNamara in 1988 and won a dozen. Jim Price won that many after taking over the baseball New York Giants in 1884.
"Our mindset is not about losing," Jason Kidd said. "Our mindset is about getting better each time we take the floor."
Kidd finished with 11 points, nine assists and nine rebounds.
Blazers 105, Celtics 84
Portland, Ore. -- Zach Randolph had 27 points and 15 rebounds, and Portland scored the game's first 22 points in a victory over Boston. Chris Mihm had 15 points to lead the Celtics, who have lost five straight games and 10 of 11. Ricky Davis added 12.
Heat 97, Nuggets 81
Miami -- Dwyane Wade outplayed fellow rookie Carmelo Anthony, scoring 28 points and helping Miami defeat Denver. Lamar Odom had 12 of his 21 points in the third quarter for Miami. Odom also had a game-high 13 rebounds for the Heat.
Clippers 105, Bucks 103
Milwaukee -- Elton Brand scored 31 points and blocked four shots to help Los Angeles spoil Keith Van Horn's Milwaukee debut. Michael Redd, an 89 percent free-throw shooter, was fouled by Corey Maggette while attempting a desperation three-pointer with one-tenth of a second left, and the Bucks trailing 105-102. But Redd missed his first free-throw attempt.
Warriors 94, Sonics 92
Oakland, Calif. -- Clifford Robinson made a go-ahead three-pointer with 55 seconds left, and Vladimir Radmanovic stepped on the three-point line on his potential game-tying shot with 1.1 seconds left.
Mavs 97, Rockets 88
Dallas -- Dirk Nowitzki had 25 points and 12 rebounds as Dallas recovered from a 16-point first-quarter deficit to defeat Houston.
Grizzlies 105, Bulls 98
Chicago -- Pau Gasol scored 23 points and had nine rebounds, and James Posey added 27 points to lead Memphis past Chicago. Kirk Hinrich scored a career-high 25 points and nine assists for Chicago.
Copyright 2018 The Associated Press. All rights reserved. This material may not be published, broadcast, rewritten or redistributed. We strive to uphold our values for every story published.