Waco, Texas — Missouri coach Quin Snyder knew he had the right player at the free-throw line in the waning seconds of Saturday's game against Baylor.
Rickey Paulding, who scored 15 points, hit three free throws in the final 18 seconds, and Missouri held on to beat the Bears, 70-66.
"Rickey was our best free-throw shooter last year," Snyder said. "He made me look good down the stretch when he stuck them."
Earlier, it was Jason Conley leading the way for the Tigers (13-10, 7-5 Big 12 Conference).
Conley scored 24 points, going 10-of-14 from the floor and hitting four three-pointers. It was a high point in his difficult season, in which he contracted strep throat and missed four games for eligibility reasons after transferring from VMI.
"I've always been a confident player," said Conley, who also had six rebounds and four steals. "When I was going through that tough time, my body was sick, and I was fighting it. But now I'm well, and our team is doing well."
Missouri led for much of the second half, but allowed Baylor to pull within 67-66 on Harvey Thomas' twisting layup with 29 seconds left.
After two Paulding free throws put the Tigers up 69-66, Baylor (7-18, 2-10) had a chance to tie, but Terrance Thomas couldn't get off a three-pointer. He passed to Matt Sayman, who missed a 22-footer with five seconds left.
"I was happy we were in position to get a win," Baylor coach Scott Drew said. "But I'm disappointed with the breakdowns. It's tough to take because we don't get close at lot."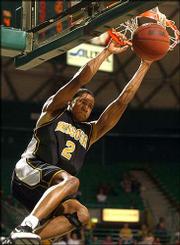 Thomas led Baylor with 16 points and three blocks, but he also lost five turnovers. R.T. Guinn went 3-of-5 on three-pointers to finish with 15 points for the Bears. Sayman had 12.
The game was close throughout, and there were eight lead changes. Baylor tied the score at 61 on two Sayman free throws with about 4:30 remaining, but Conley hit a layup, and Missouri never trailed again.
Missouri led 33-32 at halftime despite Baylor hitting 52 percent in the first half.
The Tigers outrebounded the Bears 34-22 and outscored them in the paint 38-30.
Copyright 2018 The Associated Press. All rights reserved. This material may not be published, broadcast, rewritten or redistributed. We strive to uphold our values for every story published.