Port-au-Prince, Haiti — President Jean-Bertrand Aristide agreed Saturday to a U.S.-backed peace plan to share power with political opponents, but his rivals resisted, saying he must step down for there to be peace in Haiti.
A delegation of diplomats led by Roger Noriega, the top U.S. envoy for the Western Hemisphere, ended a one-day trip to Haiti after failing to win over Aristide's opponents, but said they were optimistic that an agreement could be reached.
Aristide, who would remain president under the plan, said he had agreed to a new prime minister and government to organize elections.
But he declared he would "not go ahead with any terrorists," meaning he would not negotiate with rebels who have led a bloody two-week-old uprising that has killed more than 60 people and chased police from a score of towns.
One of the gang leaders who began the rebellion asked where the plan left him.
"What about me? When the international community come into Haiti ... they (will) take my gun," Buteur Metayer told Associated Press Television News in Gonaives, the biggest city held by the rebels. "He (Aristide is) going to kill me."
The opposition politicians are not allied with the rebels, but both want to see Aristide step down. The political opponents met with foreign envoys Saturday and promised to deliver a formal response to the peace proposal by 5 p.m. Monday.
But they indicated that their answer would remain the same.
"We expect the international community to understand our position ... which will not change," said Gerard Pierre-Charles, a leading opposition leader once allied with Aristide.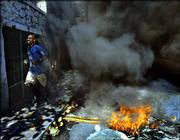 Foreign Minister Fred Mitchell of the Bahamas remained optimistic that the opposition could be won over, telling reporters, "While we did not get a yes, we did not get a no."
Saturday's mediation efforts came as the United States urged citizens to leave the country amid mounting violence by Aristide militants in government-held areas. The rebels, meanwhile, threatened to attack Haiti's second-largest city, the northern port of Cap-Haitien, over the Carnival holiday weekend.
Copyright 2018 The Associated Press. All rights reserved. This material may not be published, broadcast, rewritten or redistributed. We strive to uphold our values for every story published.