There's a new kind of revival taking place at Ebenezer Baptist Church in Atlanta.
The famed church where the Rev. Martin Luther King Jr. preached is one of 12 historic sites being renovated as part of the "Restore America" project.
Co-sponsored by the National Trust for Historic Preservation and Home & Garden Television, the two-part renovation will repair the infrastructure of the church, which is located in "Sweet Auburn," the center of black Atlanta east of the city's central business district.
The goal is to restore the church's appearance to the way it looked from 1960 to 1968, "the way it was when Dr. King was co-pastor," said Frank Catroppa, superintendent of the nearby Martin Luther King, Jr. National Historic Site. "It'll be a tremendous experience for people to see the church as it was 40 years ago."
Some repairs have already been made, and the rest are scheduled to begin in 2005. A special ceremony at the church on Jan. 9 featured remarks by King's widow, Coretta Scott King, and a performance by an Atlanta youth gospel choir.
HGTV broadcast a special segment about the church's renovation Jan. 14 as part of the network's "Restore America -- A Salute to Preservation" series. HGTV donated $1 million to the nationwide project, $50,000 of which was used to install a new drainage system in the church's Fellowship Hall.
The national historic site includes Ebenezer Baptist Church, King's birthplace, his gravesite and a visitors' center, all located on historic Auburn Avenue. Built in 1922, the church that once echoed with King's sermons during the height of the civil rights movement is no longer used for weekly services.
The congregation moved into a much larger building across the street from the historic structure in 1999. The National Park Service has a 99-year lease to manage the old church as part of the national historic site. The historic church building remains open for tours and special events.
The renovation's first phase began in April 2001 and ended in January 2002. The initial grant came in 1999 from the federal government, matched by donations from Atlanta-based corporations such as Georgia-Pacific, Cola-Cola and Delta Air Lines. Catroppa said $1.8 million was spent repairing the church's heating and air conditioning system, as well as on improved fire protection and other structural upgrades.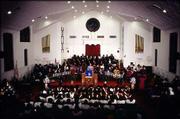 The famous Ebenezer Baptist Church sign, whose blue glow has long been an Atlanta landmark, was repaired in 2002 and shines on Auburn Avenue once again.
Phase Two of the renovation will cost about $2.8 million, with work scheduled to begin in early 2005. The church's white walls will be repainted in their original peach. The pews, stained-glass windows, choir loft and balcony will be refurbished. Tours will stop during the work but will resume in time for the annual ecumenical service for Martin Luther King Jr. Day in February 2006.
Among those celebrating the church's architectural resurrection are Jethro and Auretha English, who joined Ebenezer in 1925 and 1929, respectively. Mrs English, 87, remembers the very young King singing with gusto in the children's choir.
"We could tell he was going to be some kind of leader," she said. "He used to sing that song, 'I Want to Be More and More Like Jesus,' and he went on to prove it."
The Englishes sang in the Ebenezer choir from 1932 until 2002 and performed a duet during the last regular service held in the old church in 1999. They sang the gospel hymn "I'm So Grateful," which Mrs. English said is appropriate for the church's restoration.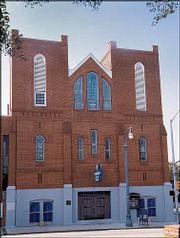 "I was glad to see they're really doing something to it," she said.
On Feb. 4, 1968, two months before his assassination, King preached at Ebenezer. He declared that he wanted to be remembered not as a Nobel Peace Prize-winner but as simply "a drum major for peace":
"Yes, Jesus, I want to be on your right or your left side, (but) not in terms of some political kingdom or religious ambition ... I just want to be there in love and in justice and in truth and in commitment to others, so that we can make of this old world a new world."
In keeping with his words and spirit, those who cherish King's memory are working to give the old Ebenezer Baptist Church new life.
Copyright 2018 The Lawrence Journal-World. All rights reserved. This material may not be published, broadcast, rewritten or redistributed. We strive to uphold our values for every story published.