The height of desks has changed since the 18th century.
That's not because people are taller but because we have changed the way we write. A quill pen and ink were used to write on a surface about 30 inches from the floor. The typewriter was designed to sit on a desktop 27 inches from the floor, because the keyboard was built up about 3 inches. The first writing desk was just a wooden box with a slanted lid. The box held a pen, paper and other supplies.
By the end of the 16th century, some boxes were attached to tables to become the first desks. During the next 200 years, compartments were added. The front was sometimes made to open into a writing surface above several large drawers. Desk designs continued to be improved, and the drawers were moved to the sides around a space called a "kneehole."
By the late 1800s, some desks were like small office cubicles. Movable side pieces with drawers were added, and so were locks. Surfaces were carved or inlaid for added beauty. Today, some desks are back to being boxes -- a thin box can hold a laptop computer.
During the past 30 years, I've collected a few hundred U.S. road maps. I started organizing them the other day and wondered if I should save old ones or throw them out.
From the 1920s to the 1970s, American oil companies gave away highway maps at gas stations across the country. Today those maps, if they're in good shape, are wanted by collectors. So are maps given away as promotions for World's Fairs, the 1976 Bicentennial, airline companies and railroads.
Please explain what "silvered glass" is and when it was manufactured. Was it made with mercury?
Silvered glass was manufactured in the United States from the mid-1850s until the early 20th century. Glassmakers used a solution that included silver nitrate, not mercury. The solution was applied to the inside of hollow or double-walled glass items, producing a glittery, mirrored effect. Before the 1850s, glassmakers in Europe did try using mercury, but they found it to be toxic and too expensive. Antique silvered glass items found today include vases, doorknobs, curtain tiebacks and drawer handles.
Please tell me something about Tynietoys. I have a miniature wooden dining-room set marked with that name.
You have a miniature treasure, and it's not even 100 years old. Tynietoy dollhouses and dollhouse furniture were introduced about 1917 by the Toy Furniture Shop of Providence, R.I. The company's factory closed in 1942, but retail stores continued selling Tynietoys until about 1950. The furniture was well-made. Some pieces were hand-painted by students at the Rhode Island School of Design. Tynietoy furniture and dollhouses were made for upscale buyers. They weren't designed for the mass market or, at first, for children. That's even more true today. Depending on the style and condition, a dining-room set can sell for hundreds of dollars.
My great-grandfather left the family a 3-foot-long tool that appears to be a hand press to make communion wafers. The tool is cast-iron and shaped like a long-handled pair of scissors. At the other side of the pivot joint are two flat pieces of iron that press together when the handles are closed. On the flat ends, there's an engraving of a circle enclosing the letters IHS, with a cross above the H. Have you ever seen one of these?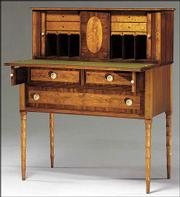 A cast-iron communion press similar to yours was recently offered at auction for $400 to $600. The initials IHS are, in Greek, the first three letters of the name Jesus. They have been used as an abbreviation for Jesus since the late Middle Ages.
Can you identify the maker of my brown 5-inch-high terrier figurine? It's marked "SylvaC 1328" on the bottom.
Ceramic figurines, vases and novelties marked SylvaC were made after about 1932 by Shaw & Copestake, a pottery founded in 1894 in the Staffordshire district of England. The number on the bottom refers to a mold used at the factory. SylvaC animals are the most popular of the firm's products, which were produced into the 1980s. Collectors like the earlier matte-glazed pieces best, but glossy items are beginning to rise in price. Items have also been faked. Your dog is in a rare matte color and, if genuine, is worth more than $100.
Tip
Battery-operated toys should be run regularly to keep the parts working.
---
- The Kovels answer as many questions as possible through the column. By sending a letter with a question, you give full permission for its use in the column or any other Kovel forum. Names and addresses will not be published. We cannot guarantee the return of any photograph, but if a stamped envelope is included, we will try. The volume of mail makes personal answers or appraisals impossible. Write to Kovels, (name of your newspaper), King Features Syndicate, 888 Seventh Ave., New York, N.Y. 10019.
Current prices
Current prices are recorded from antiques shows, flea markets, sales and auctions throughout the United States. Prices vary in different locations because of local economic conditions.
Glass candy container, Locomotive 999, man in window, Cambridge Glass Co., 1916, 5 inches, $145.
Staffordshire plate, blue and white, "Junction of the Sacandaga and Hudson Rivers," scalloped border, 6 3/4 inches, $150.
Royal Worcester vase, urn form, rose ground, allover gilt geometric design, 3-snake-form handle, c. 1890, 7 inches, $260.
Mellin's Food sign, tin, Victorian woman in white dress gazing out window, Wells & Hope Co., 20 1/2 x 26 inches, $345.
Steuben gold Aurene center bowl, shallow, pink highlights, separate brown Aurene ring-form base, c. 1920, 11 1/2 inches, $450.
Cast-iron figurine, Wire Hair Terrier, seated, wearing red collar, 1870, 4 1/4 inches, $515.
Copyright 2018 The Lawrence Journal-World. All rights reserved. This material may not be published, broadcast, rewritten or redistributed. We strive to uphold our values for every story published.