Like mother, like daughter.
A family tradition continued Saturday when West Junior High School student Laura Drees won the Douglas County Spelling Bee.
"I'm kind of in shock," the eighth-grader said just moments after she was presented with the first-place trophy.
Laura followed the trail blazed by her mother, Karin Drees, who twice won the Hamilton County spelling bee when she was growing up.
"I'm extremely proud and happy," a beaming Karin Drees said of her daughter.
The words came for more than two hours in the auditorium at Southwest Junior High School, one right after the other as they were pronounced by longtime former Kansas University public address announcer Howard Hill.
And slowly, one by one, words such as "brethren," "mohair" and "pulpitry" took their toll on the field of 24 contestants from Douglas County's private and public elementary and junior high schools.
In the end it came down to three contestants. Hannah Frydman, a Central Junior High School student, tripped up on "connotations" but took third place. Then the word "ridiculously" caused Baldwin Junior High School student Marianne Sansom to stumble.
Laura took her turn and correctly spelled "ridiculously." To seal her victory, however, she had to get the next word right, which she did, by spelling the word "effluent."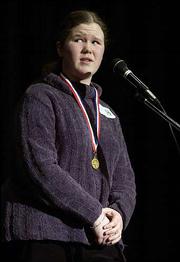 Watching the contest with Karin Drees was Laura's uncle, Stanley Rogers, of Lawrence.
"I think she is ridiculously smart," Rogers said with a laugh. "She reads a lot."
Laura also was congratulated by her older sister, Bernadette Drees, a West Junior High ninth-grader, who two years ago was a contestant in the spelling bee.
Laura Drees said she was nervous going into the contest, but the nerves were easier to handle because she had been in the spelling bee before.
"I just decided I was going to either win or lose," she said.
Deborah Summers-Norwood, a teacher at Schwegler School and organizer of this year's spelling bee, said she was pleased with the contestants.
"I thought they all did an outstanding job," Summers-Norwood said. "There was a lot of good sportsmanship. I saw some of them patting each other on the back."
Laura Drees will go on to compete in the Kansas Spelling Bee, set for March 27 in Topeka.
Copyright 2018 The Lawrence Journal-World. All rights reserved. This material may not be published, broadcast, rewritten or redistributed. We strive to uphold our values for every story published.