Iowa State men's basketball players might have used frustration to fuel an 18-1 run that gave them new life against Kansas University Saturday afternoon at Allen Fieldhouse.
That frustration lasted long after the Cyclones' 90-89 loss, especially when they were questioned about a official's botched call in the first half.
KU held a 34-24 lead with 3:13 left in the first half when ISU forward Jared Homan was fouled by KU's Christian Moody as Homan went up for a shot underneath the Jayhawks' basket.
Homan went to the free-throw line for what was supposed to be two foul shots.
The public-address announcer told the capacity crowd that Homan would be shooting a one-and-one from the free-throw line, and apparently that notion stuck with Saturday's officiating crew of Tom O'Neill, Danny Hooker and Paul Janssen.
As soon as Homan's first free throw rimmed out, KU's David Padgett grabbed the rebound and tossed the ball upcourt to Jayhawk J.R. Giddens, who saw ISU players were slow to get back and pulled up to sink a deep, unguarded three-pointer from the left side of the circle.
Both Homan and ISU senior Jackson Vroman immediately threw up two fingers to alert the referees that Homan was supposed to shoot two free throws.
Realizing something was wrong, the refs took an official's timeout to sort things out.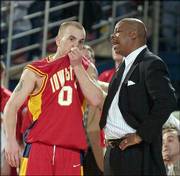 "How can it count?" ISU coach Wayne Morgan said when he questioned the huddled trio of refs as he approached the scorers' table. "That's crazy."
"That's the rule," Janssen told Morgan.
The mistake, according to KU coach Bill Self, was a "correctable error, after the next dead ball," much like "if you give them a two and it's a three, and they correct it after the next dead ball."
Iowa State was awarded a free throw and possession.
Homan connected on his second free throw, and ISU's Jake Sullivan knocked down a jumper to cut the Cyclones' deficit to 37-27.
"The officials made the right call," Self said. "If they caught it before he shot the ball, they'd stop play and shoot the free throw, and we would have got the ball. You can't take points off the board."
Since the Cyclones eventually lost by a point, Morgan said he thought they should have taken away the three.
"I am not allowed to talk about that," said Morgan, who complained about the officiating to KU officials after ISU suffered its 23rd straight league road setback. "But I have never seen a situation where there was a two-shot foul, with the player missing the first and the other team rebounds and goes down and scores."
Sullivan also didn't want to comment on the play, but he said the Cyclones clearly were unaware of what was happening.
"Everybody knew it was two shots, and everybody kind of stopped, like, 'What was going on?'" said Sullivan, who scored 16 points in his final trip to Allen Fieldhouse.
"I don't know what the rule behind that is," Sullivan said, "but that was a huge break in the first half."
Sullivan gave the Cyclones the big break they needed to get back in the game in the second half.
After he turned the ball over with 10 1/2 minutes to go on a traveling violation, KU's Michael Lee tried to take the ball out of Sullivan's arms. Homan then came up and pushed Lee in the back, and KU's Aaron Miles intervened.
The brief skirmish was broken up, but while Sullivan walked back down court he had words with both Miles and Lee and was given his first collegiate technical foul.
Iowa State turned in a 22-point swing to take a five-point lead with 3:02 to go.
"It got us pumped up because they were the ones out there talking the whole game," ISU guard Curtis Stinson said of Sullivan's technical. "It motivated us, because it let us know how bad he wanted it."
Copyright 2018 The Lawrence Journal-World. All rights reserved. This material may not be published, broadcast, rewritten or redistributed. We strive to uphold our values for every story published.