Manhattan — Two weeks after Jayson Obazuaye scored in the final seconds to stave off a Kansas State comeback, the Buffaloes redeemed themselves.
Michel Morandais scored 21 points as Colorado beat Kansas State, 72-62, Saturday night to sweep the Wildcats for the first time in four years.
"That wasn't a lucky win," center David Harrison said of the first meeting. "This time it was the exact same thing. We got a lead but maintained it."
Colorado (15-8, 7-5) held Kansas State (12-11, 4-8) to one field goal over a 15-minute stretch to break a four-game losing streak in Big 12 Conference road games.
"That's the best defensive game we've played all year long," Colorado coach Ricardo Patton said. "Guys were really making extra efforts."
After a 7-0 run late in the first half, Colorado went on an 8-1 run to start the second half and took a commanding 45-32 lead. The Buffaloes held Kansas State to 36 percent from the field in the second half.
Kansas State still cut a 16-point deficit to eight with 1:08 left, but got no closer.
"Coach told us that we were playing timid, like we were scared of them," Kansas State forward Jeremiah Massey said. "We tried to pick it up, but it was too late."
Blair Wilson added 15 points for Colorado, Harrison had 13 points and 10 rebounds, and Lamar Harris had 10 rebounds.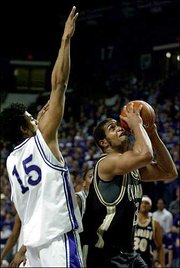 Massey led Kansas State with 23 points and 11 rebounds.
No. 11 Texas 68, Oklahoma 63
Norman, Okla. -- Brandon Mouton scored 25 points, and Royal Ivey hit a pair of free throws with 11.6 seconds to play, lifting Texas.
Mouton missed a free throw seconds before, but Jason Klotz wrestled away the rebound from two Sooners, and P.J. Tucker scored on a putback, sealing the win for the Longhorns (19-4, 10-2).
Texas kept its hold on second place in the Big 12 and completed its second-straight season sweep over its hated border rival.
Oklahoma (16-7, 6-6) fell to seventh place in the conference and lost at home for the fourth time in 52 games. The Sooners have lost two straight to Texas in Norman.
Mouton sparked a 15-2 run midway through the second half, turning a 46-40 deficit into a 55-48 lead with 6:56 to play. During the spurt, Mouton cooly nailed a three-pointer, soared through the lane for a two-handed dunk, made a pair of free throws and then hit another three from the corner.
The senior guard's final three-pointer effectively quieted the sellout crowd of 11,785 at the Lloyd Noble Center.
Mouton was the only Longhorn to score in double figures.
Oklahoma nearly doubled its point total from an embarrassing 66-37 loss in Austin two weeks ago, but still didn't have enough offense to keep up with the Big 12's top-scoring team.
The Sooners went more than six minutes without a field goal during one second-half stretch and shot just 36 percent.
Freshman Drew Lavender led Oklahoma with 18 points, and Jason Detrick had 14.
No. 22 Texas Tech 76, Texas A&M; 60
Lubbock, Texas -- Bob Knight thinks it's "neat" that Andre Emmett is the Big 12's all-time leading scorer.
"That's a neat thing for a kid to have," Knight said. "But what it means to me is that a lot of kids have worked like hell to get him the ball, screen for him and get him open. You guys get too caught up with individual honors."
Emmett needed four points coming into Saturday's game against Texas A&M; to overtake Nick Collison of Kansas University (2,097 points). He got 18 to lead the Red Raiders, (19-7, 7-5), who went up by double digits early in the first half.
Emmett got his 2,098th point on a one-handed dunk in full stride with 7:54 remaining in the first half.
Antoine White scored 17 points, and Kevin Turner added 13 to lead the Aggies (7-16, 0-12).
Copyright 2018 The Associated Press. All rights reserved. This material may not be published, broadcast, rewritten or redistributed. We strive to uphold our values for every story published.