Starkville, Miss. — Kennedy Winston dribbled between his legs, took a jab step and threw a head fake. He still couldn't get Branden Vincent out of his face.
No problem.
The Alabama forward simply faded away and launched over Vincent's outstretched hand, falling back toward his bench while the 18-footer ripped through the net.
It was that kind of day for the Crimson Tide -- and boy did they ever need it.
Winston scored a career-high 31 points, leading Alabama to a stunning 77-73 win over No. 4 Mississippi State on Saturday, snapping the Bulldogs' eight-game winning streak.
Alabama (13-10, 5-7 Southeastern Conference) gave its NCAA Tournament resume a much-needed boost. The Crimson Tide, who have played one of the toughest schedules in the country, came in having lost six of seven and were 1-6 on the road overall.
Three of the Tide's recent losses have been by four points or less.
"We're a team that nobody even ever, ever thought we'd have a discussion about the NCAA Tournament this late in February. Who's kidding who? We're just going to play hard and see what happens," Alabama coach Mark Gottfried said.
Lawrence Roberts scored 23 points, and Timmy Bowers had 14 for the Bulldogs (21-2, 10-2), who reached their highest ranking in the AP poll in four decades this week.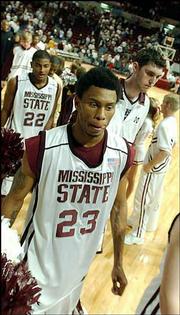 Winston thwarted Mississippi State's late run with one of the few shots he made from close in. He got free for a layup and was fouled, then converted the three-point play to make it 63-58 with 3:27 left.
"They hit some great shots, you've got to give them credit," Roberts said. "But we just didn't buckle down and play with the energy and the defensive toughness we usually do."
Winston went 8-of-10 from the free-throw line during the final 1:25 to keep Mississippi State at bay.
He was 13-for-15 from the line for the game and Alabama was 23-for-28. Emmett Thomas added 16 points, shooting 4-for-5 from three-point range.
Alabama, the best three-point shooting team in the SEC, came out firing from long range to start the second half with a 12-0 run on nothing but threes.
Thomas made consecutive shots from behind the arc, and Earnest Shelton and Antoine Pettway did the same, and suddenly Alabama was up 44-33.
"They made the shots, even the contested ones," Mississippi State coach Rick Stansbury said.
Copyright 2018 The Associated Press. All rights reserved. This material may not be published, broadcast, rewritten or redistributed. We strive to uphold our values for every story published.