Louisburg, N.C. — In a low, steady voice Magdalena Santillan pleads for more people to donate their organs.
As she speaks in Spanish, images of her daughter, Jesica, flash onto the screen. One shows a pretty, smiling girl with lively brown eyes. Others show her unconscious in a hospital bed with a breathing tube and IV lines trailing from her weak, tiny body just before her death, a year ago today.
"Help me to keep Jesica's legacy alive," she says in one of a series of public service announcements that began airing in December.
Jesica Santillan, a 17-year-old Mexican immigrant, died after receiving a heart-lung transplant from a donor of an incompatible blood type. Her death shook the nation's confidence in the organ donation system, battered the reputation of world-renowned Duke University Hospital, and, most agree, probably will end up making both better.
Jesica's plight grabbed the attention of the nation and the family's native Mexico. At times, the debate turned ugly, with critics attacking Duke, the transplant system and the illegal immigrant status of the Santillan family.
"There was a rage factor that people harbored," said the family's spokesman, Mack Mahoney. "People, they see that as their kid."
One year later, the rage has mostly cooled, with bitter talk turning to efforts to build a legacy for a girl let down by the well-meaning people who tried to save her.
"The event, although it was tragic for Jesica, it's probably going to make a bigger impact on medicine than anything else," said Dr. Peter Smith, chief of thoracic surgery at Duke. "It takes an event like this to raise the level of attention to the point where cultural change is possible."
Within the past year, the United Network for Organ Sharing, which coordinates roughly 25,000 transplants a year, painstakingly broke down its procedures for organ donation, identifying key places where errors could occur. Duke adopted a similarly rigorous set of checks and balances.
"Our approach was to build a system and a set of redundancies and of double checks and triple checks that will keep this from ever happening again," said Dr. William Fulkerson, the head of Duke Hospital.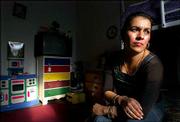 The ultimate irony for Jesica and her family is that they scrambled across the border from Mexico in 1999 in search of better medical care. On the recommendation of a relative working in North Carolina, they went to Duke, hoping to find doctors who could cure the heart ailment that had afflicted her since she was 5.
Doctors diagnosed the teen with restrictive cardiomyopathy, which keeps the heart from adequately supplying the body with blood. Her diseased heart had also caused her lungs to weaken.
On Feb. 7, 2003, an organ bank in Boston called with a heart and lungs for a patient of Dr. James Jaggers, who declined the organs for that patient, requesting them instead for Jesica.
A second set of organs was required because Jesica had type-O blood and the organs used in the first operation were type A. Correctly matched organs were implanted Feb. 20, but she died two days later.
As United Network for Organ Sharing and Duke work on preventing mistakes, Magdalena Santillan is trying to bring more people into the organ transplant system. She said she believed her daughter's memory could be served best by expanding the pool of donors and making sure other children have safe, easy access to those organs.
She now helps Mahoney run Jesica's Hope Chest, the nonprofit charity he started to help pay for the costs of Jesica's transplant that Magdalena's insurance from her job as a cleaning lady did not cover.
Copyright 2018 The Associated Press. All rights reserved. This material may not be published, broadcast, rewritten or redistributed. We strive to uphold our values for every story published.