Albany, N.Y. — Hot yoga. Tot yoga. Power yoga. Disco yoga. Yoga kickboxing. Fat-blasting yoga.
Years after the ancient Eastern discipline caught on big in the United States, yoga is proving to have a suitably limber foothold here. Not only are more people taking up yoga, but it is being geared for American tastes. There is yoga for dieters, for jocks, even for new moms and their babies.
"Yoga is evolving to meet cultural needs," said Yoga Alliance president Hansa Knox Johnson. "We have people who have different kinds of energies. Some of them are go-go, some are kind of more restless, some are more heavy, sedentary. So different yogas are appropriate for different kinds of people."
Yoga has been gaining steam in this country for years. A study released last summer by the magazine Yoga Journal said about 15 million people in the United States practiced yoga -- a 29 percent jump from the previous year. The yoga boom probably peaked a year ago, according to The Yoga Research and Education Center, but researchers there still expect interest to remain at higher levels.
Yoga has benefited from the same baby boomer-fueled fitness trend that fills kickboxing classes and aerobics studios. But increased interest in alternative health practices has helped, too. Yoga is often championed as a way to bring peace of mind in a jangly world.
"Our biggest spike in enrollment came right after 9-11," said Deborah Foss, executive director of the Albany Kripalu Yoga Center. "I think people were so stressed out, they were looking for a place to calm down."
And with more people taking up yoga, more styles of classes cropped up.
Are you athletic? Power yoga might work. Don't mind a good, purifying sweat? Bikram Yoga, sometimes called hot yoga, is typically performed in rooms heated to around 100 degrees. Pregnant? Aqua yoga can make movement easier.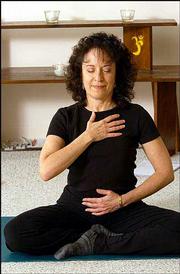 Foss favors Kripalu Yoga, which she teaches under soft lights with slow stretches and sweet incantations of "Ommm." But the center offers classes that run the spectrum in terms of physical demands.
Some latter-day yoga offshoots would seem alien to a practitioner from 5,000 years ago, particularly those who focus on the quest for a better body.
Some purists sniff at the likes of "yoga kickboxing" and trendy yoga wear like "Om earrings" and "Yoga chick" tops with Buddha prints. The fear is that turning yoga into a commodity or merely a physical training tool can obscure its higher purpose.
"The whole thing is to integrate your body, mind and spirit," Foss said. "When we Westernize everything -- and the culture is so built upon competition and big, better, more -- sometimes we lose the essence of the practice."
Copyright 2018 The Associated Press. All rights reserved. This material may not be published, broadcast, rewritten or redistributed. We strive to uphold our values for every story published.